Ready to move out of the stone age? This is a marketer's guide to build a business case for HubSpot.
Why Go HubSpot?
Over the past couple of years, when speaking to clients about the potential and power of HubSpot, I've come to realise that most companies have 2 distinct phases — B.H. and A.H.
B.H. = Before HubSpot
A.H. = After HubSpot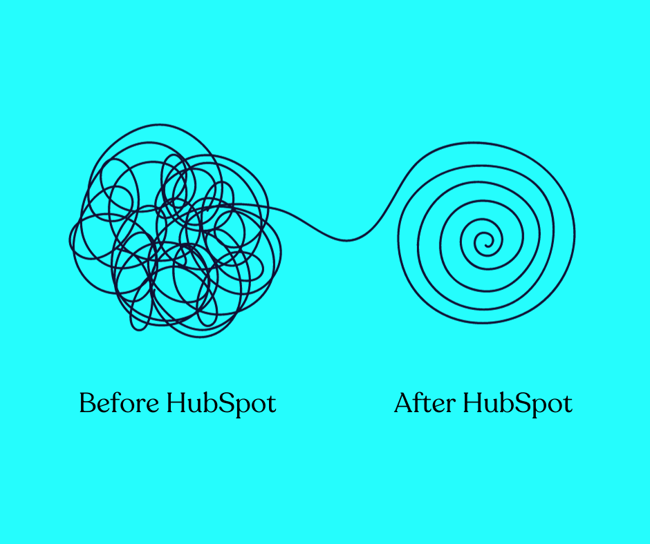 The differences we've seen in our own business and those of our clients are truly night and day.
Ask any of the thousands of marketers out there who are HubSpot users and you'll find the message is simple — that HubSpot is 'easy to use', has 'great user experience' and is so powerful as a 'single source of truth'.
I don't need to convince you of the power of HubSpot. But you do need to convince your boss that its the right investment.
That's why I wrote this guide to help you prepare a case to convince your boss on the wonders of scaling your business on HubSpot.
Before I dive into the steps, I'd like to share a principle that I find useful:
People don't choose the cheapest option. They choose the less risky ones.
Every investment has its risks, you can't argue with that.
But you have the benefit of HubSpot specialists, consultants, experts at Content Chemistry to help you not just minimise the risk of your investment with HubSpot, but to capitalise on it for growth.
Let's dive in.
How to build a business case for HubSpot
Here are the few steps you'll need to create a business case for HubSpot:
Step 1: Identify the objectives
Step 2: Outline the costs and ROI
Step 2: Develop an action plan
Step 1: Identify the objectives
Everything starts with clear business objectives and goals.
What do you hope to achieve with HubSpot? Identify key areas that can benefit from its features, such as marketing, sales, customer service, or all of the above.
What is currently not working? This can be drawn from your own frustration and challenges with current platforms or processes.
You can be specific about what you want to accomplish, whether it's generating more leads, increasing conversion rates, improving customer retention, or streamlining your marketing and sales processes.
Lead Generation: Explain how HubSpot's inbound marketing tools can help you attract more high-quality leads.
Conversion Optimisation: Discuss how HubSpot's features can help you convert leads into paying customers.
Customer Retention: Describe how HubSpot's CRM and automation can enhance customer relationships and loyalty.
Efficiency and Productivity: Highlight how HubSpot can streamline workflows and save time for your team.
Step 2: Outline the costs and ROI
To make a compelling case, you need to be transparent about the costs involved and the expected return on investment (ROI).
Consider the following:
Licensing Costs: Calculate the upfront and ongoing costs of HubSpot subscriptions, add-ons, or any required training.
Implementation Costs: If necessary, detail the expenses associated with setting up HubSpot and migrating your data.
Time and Resources: Estimate the time and resources your team will need to invest in learning and using HubSpot.
Competitive Analysis: Compare HubSpot's pricing with alternatives and demonstrate why it offers the best value.
Expected ROI: Provide data or projections on how HubSpot is likely to improve your key performance indicators (KPIs), such as increased revenue, reduced customer acquisition costs, or improved customer satisfaction.
HubSpot also offers additional benefits beyond the tangible cost ROI.
Here are 4 categories that I find helpful to think about when thinking about the ROI of a tool like HubSpot:
Platform
Process
People
Performance
Let me break it down below 👇
1. Platform: Everything in one place
It sometimes feels like "Everything everywhere, all at once" is a movie for marketers.
Are you still sending attachments that have 'FINAL FINAL V3.pdf? Yeah, that's not going to work. Disorganisation can be a major obstacle to marketing success.
With HubSpot's platform, you can bring order to the chaos, bringing "everything everywhere" under control. This is where the power of having data centralised as a single source of truth truly shines.
I've asked one HubSpot evangelist, Kyle Jepson, about his favourite feature in HubSpot and here's what he says: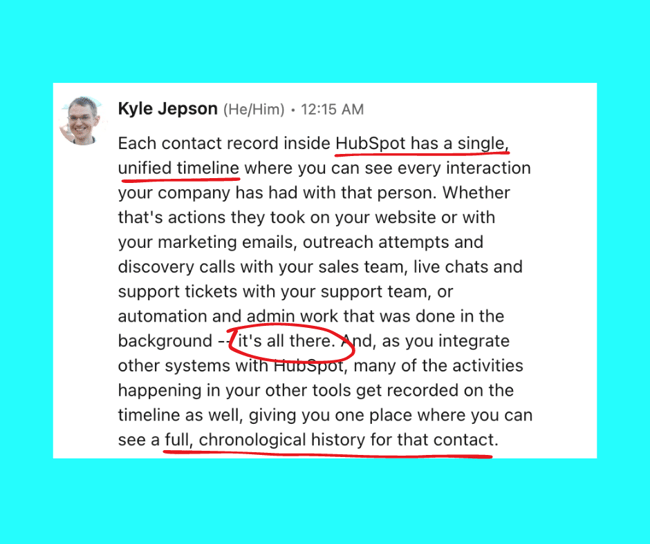 Data Centralisation: Moving all your data into one place provides you with the ability to clean and analyse it effectively. Clean data is the foundation for making informed decisions, and better decisions ultimately lead to business growth.
Real-Time Insights: With data organised and readily available, you can shift from working with lagging indicators to proactively searching for trends, identifying growth channels, and spotting opportunities. This gives you valuable visibility into your entire pipeline, allowing for more informed and strategic decision-making.
2. Process: Productivity gains
Once you have your platform sorted out, you can create and streamline processes. HubSpot's platform provides the foundation upon which efficient processes can be built, saving time and resources.
Building out landing pages, creating and customising email newsletters, updating the website — all can be templatised and systemised in one easy to use place.
3. People: Moving as a team
Marketing teams are an integral part of a larger business machine. Just like any machine, they need the right equipment to function effectively.
Unified Tools: Using one tool instead of many and having a single source of truth rather than scattered spreadsheets simplifies collaboration and boosts productivity.
By considering how many hours are saved for your team, you can translate those time savings into financial returns that can be reinvested into running and executing more campaigns.
4. Performance: Scaling up
When your platform and processes are optimised, the entire team can work in sync to scale the most crucial piece — revenue. For instance, using HubSpot to manage your website, ads, and content marketing allows you to build a comprehensive program from the ground up.
Improved performance metrics such as lead generation and increased website traffic are natural byproducts of having everything in one place.
Step 3: Develop an action plan
While all the above sounds good, you should also include a comprehensive action plan that outlines how you'd use HubSpot to achieve the business objectives you outlined earlier.
Some key things to consider in your action plan:
Implementation Timeline: Create a timeline with key milestones for the adoption of HubSpot. Specify when each department (e.g., marketing, sales, customer service) will start using the platform.
Training and Support: Explain how your team will be trained and supported in using HubSpot effectively. Mention any resources provided by HubSpot or external training programs.
Data Migration: If you're transitioning from another system, detail the data migration process and potential challenges.
Integration with Existing Systems: Describe how HubSpot will integrate with your existing tools and software to create a seamless ecosystem.
Key Metrics and Monitoring: Indicate how you will measure the success of your HubSpot implementation. Discuss the tools and metrics you'll use to track progress and ROI.
Be prepared to address potential objections and concerns from stakeholders. Anticipate questions about data security, scalability, and any potential disruptions during the transition.
By creating a well-structured and data-driven case, you can increase the likelihood of gaining buy-in for implementing HubSpot in your business.
Seeing is believing
As we've done with many clients, a quick demo on HubSpot can help provide tangible proof of the value of the platform.
Reach out to us if you want to book a free demo and strategy session with HubSpot. Let us help you demonstrate the potential of HubSpot and answer any questions they might have.
Posted on
08 November, 2023
by Samuel Cheong