Modern businesses build blogs to reach their audiences and grow their business through remarkable content.
How Ariana Huffington built the most famous blog in the world
It wasn't too long ago that blogging became mainstream.
In 2005, Ariana Huffington started a blog of her namesake, The Huffington Post. It began life as a political commentary blog but soon opened to a broad stable of bloggers.
The website "elevated blogging", in Ariana Huffington's own words, and welcomed a new era where writers could write blogs and gain wide exposure.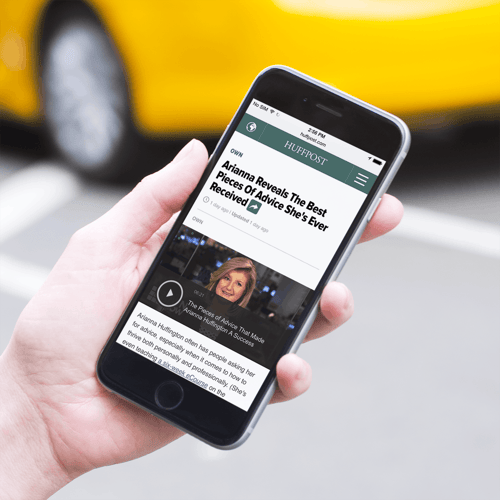 Ariana Huffington didn't invent blogging but she brought it to the limelight. Blogging, once a niche, is now seen as a valid and valuable part of the marketing landscape.
How valuable you might say? In 2011, AOL Inc. acquired the Huffington Post for US$315 million, making the Huffington Post the most valuable blog in the world at the time.
If we fast forward to 2022, there are more than 600 million blogs on the internet, and 77% of web-surfers read blogs regularly.
At its most basic, blogs can help you develop an online presence, prove yourself an expert in an industry, and attract more quality leads to all pages of your site.
If you're contemplating creating a blog for your business, or simply want to know what one is, keep reading.
What is a blog?
A blog is an essential part of your marketing strategy and is the cornerstone of an effective inbound strategy. Here's a definition from HubSpot:
A blog is typically a section of your business's website — but, unlike the rest of your website, you need to update the blog section frequently by adding new posts. Additionally, your blog is a tool that allows you to engage more with an audience, either by analysing how many readers share your blog posts on social, or by allowing readers to comment on your individual posts. In this way, a blog is more like a two-way conversation than the rest of your website. However, a blog can also be an entire website, and often is, if the blog is for personal use alone — for instance, a travel blog.
Did you know that 55% of marketers say blogging is their top inbound marketing priority? Did you also know that these marketers are 13x more likely to see positive ROI than marketers who don't invest in blogging?
Over the last decade or so, businesses have increased revenue, improved brand awareness, and boosted conversions with valuable written content published for their target audience and customers. The key here is that their blog content is valuable — it isn't enough to simply have a blog; there has to be a purpose or reason for its existence.
Here's how we define business blogging, according to our friends at HubSpot:
Business blogging is a marketing tactic that uses blogging to get your business more online visibility. A business blog is a marketing channel (just like social media, direct mail, email marketing, etc.) that helps support business growth.
Here are some quick stats about blogging:
Why should you have a blog?
Simply put, a blog equals increased website traffic, more leads and more sales.
The image below shows how Ahrefs have increased their website traffic from zero in 2015 to more than 300,000 monthly visitors.

When you think of customer acquisition, for B2B or B2C, there are three primary channels:
Word of mouth
Search
Advertising
1. Word of mouth
Word of mouth (or referrals) is hands-down the most effective channel to acquire customers. Great products and services generate buzz and recommendations on their own like a flywheel.
Blogs can amplify some of this buzz. For example, if I wanted to buy a kids bike and posted it on Facebook, someone in my network might comment and refer me to this article The Ultimate Kid's Bike Buyers Guide.
We all know that getting glowing recommendations from friends or people we trust for a product/service is very convincing. Blogs can help fan the flames and get more buzz-worthy content to complement this channel.
Pro Tip: It's worth checking out what your audiences are saying on social media and online forums and writing blog content around the conversations they're having.
2. Search
This is almost self-explanatory and a product of our modern times. Every purchase decision we make today almost always start online with a Google search.
For example, working from home has got me thinking of a coffee machine for the home, because, why not? It means I can make myself multiple cups of flat white throughout the day to get my caffeine fix.
So what do I do? I'll go ahead and google "how to buy a coffee machine" and this is what I get, with a bunch of great resources, including this helpful blog article.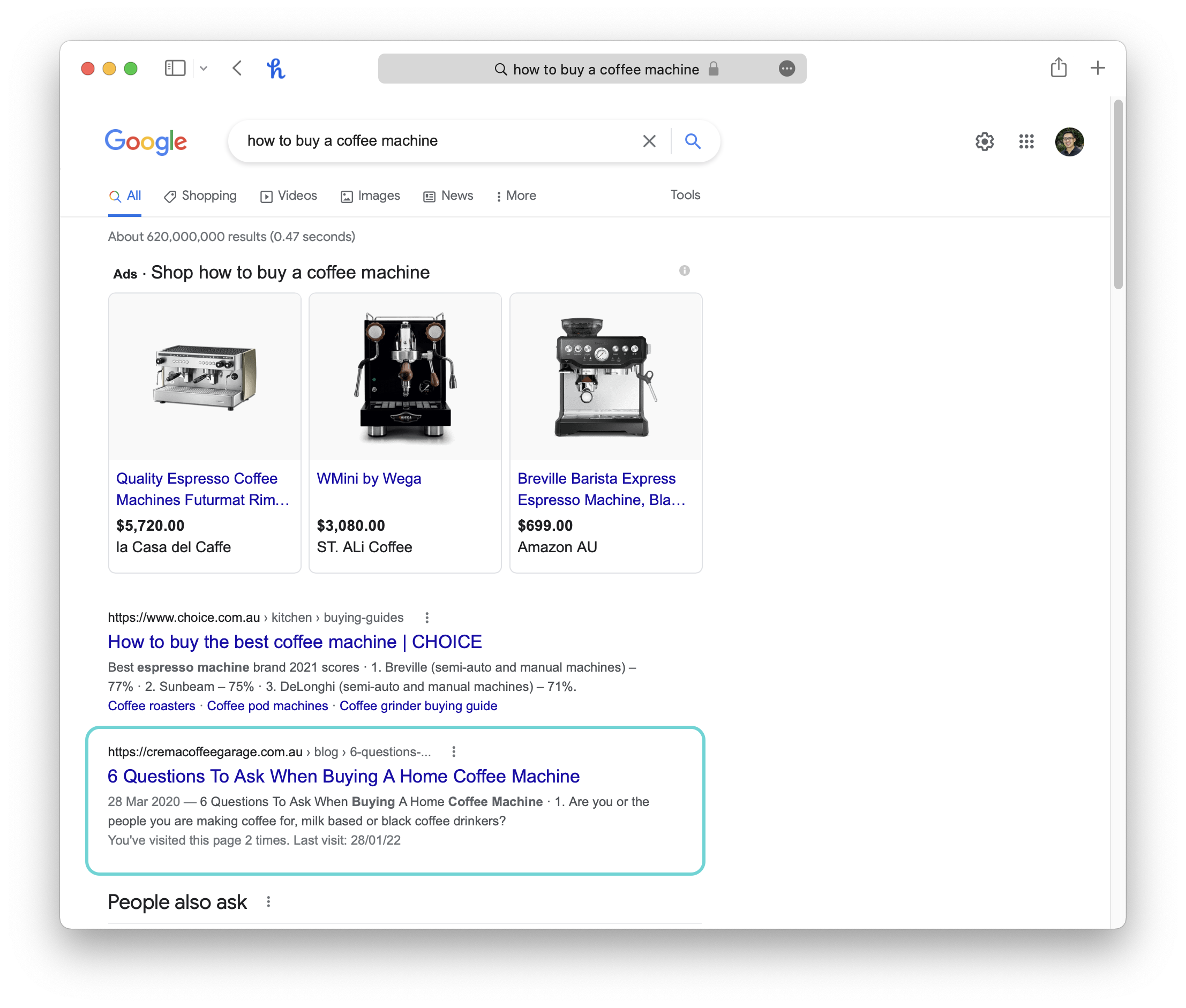 It also just so happens that Creme Coffee Garage does sell coffee machines, and this blog post brought me straight to their website.
Alongside word of mouth, search is the next most important channel for people to discover products and services. After all, people don't go straight to buying a product until they do their research.
Pro Tip: Think like a customer and do some research. What keywords or phrases are used to search for products/services that are similar to yours? That's a good place to start your keyword research before writing.
3. Advertising
Advertising online or pay-per-click (PPC) is one of the most common ways for businesses to generate leads and drive sales. Whether it's LinkedIn ads or Facebook ads or good old Google ads, we use it as part of our core marketing strategy to help our clients grow their business.
It's quite common to think about using ads to drive leads and sales, but ads are also great to create brand awareness and drive demand for your products or services.
That's why content and blogs are a great way to add value to your advertising without driving potential customers to just the sales page or landing page.
In almost every metric of customer acquisition, you can see how a blog enhances your chance to grow sales and get more customers. Not only that, your blogs are able to help you connect with new and existing customers in ways that are more personal, building trust and establishing your business as a thought leader.
Pro Tip: Think of advertising as a way to distribute your blogs. Great content isn't hard-selling but is genuinely valuable to your audience.
How to create a blog strategy
Let's take a step back before writing our first blog post and talk about what makes a successful blog.
We also covered this in our Ultimate Guide to Content Marketing on what makes a successful content marketing strategy.
Here are the ingredients of a successful blog content strategy:
Develop your SMART goals

Think like your customer

Create your content

Distribute your content

Measure your outcomes
This is already a good place to start when thinking about your overall content strategy. I'd like to push this further by making it more specific to blogging.
Here are the ingredients of a successful blog:
Identifying your blog's purpose

Setting your blog's goals
Mapping out your content
Creating your content and publishing
Promoting and distributing your content
Analysing and optimising the blog's performance
Having a strategy before blogging is like charting the course of a ship — you'll know where you need to go and the actions that you need to take to get there.
Are you now ready to fire up your blog?
Grab a coffee and read on. 👇
How to start your blog
You're convinced now that blogging is going to be part of your marketing strategy for 2022. Now what?
There are three decisions that you need to make before you go live with your blog:
Choosing a blogging platform
Identifying the blog's audience
Choosing the right blog topics


1. Choosing a blogging platform
The question is as old as time — which platform do I choose to start my blog?
Choosing a blog can overwhelm you with 'analysis paralysis,' so the easy answer we like to give is to start your blog on whatever CMS platform you currently have for your website.
While there are modern blogging CMS like HubSpot, you are truly inundated with plenty of good options to make this work for your business.
Popular choices include:
HubSpot CMS
WordPress
Squarespace
Wix
Webflow
It's worth pointing out that some CMS platforms are better built for blogging, such as WordPress and HubSpot CMS. If you don't already have a blogging platform, consider either of these two options.
The platform is like the structure and foundation of a house. A good one will last you a long time. Choosing the right platform is crucial because you also want your blog to scale with you as you grow.
To help you decide, here are some questions to consider:
Is it easy to use?
This question is important because more often than not, the person who will be updating or writing the blogs will be your Marketing Coordinator or the business owner. The easier the blogging tool is, the more likely it will be adopted as part of the marketing process.
This question encompasses how easy the tool is to allow users to write, publish and update blogs regularly.
I count this one of the most important factors for the success of a blog.
Is it good for SEO?
As we've mentioned in the previous section, one of the key reasons to blog is because it helps customer acquisition especially in the area of search. Search Engine Optimisation (SEO) is a crucial aspect when choosing the blogging platform.
A good blog optimises for search by default, or at the minimum has tools that help you check all the boxes. Optimised blogs have higher chances of ranking on Google.
Does it connect to your CRM?
Modern businesses need to have a modern CRM (such as HubSpot) underpinning all of their customer experiences.
Having the blog work well with the CRM is almost by definition a necessary feature so that your blogging efforts can be closely tied to customer experience.
The beauty of having a powerful CRM like HubSpot means you are able to use the CRM to create personalised and delightful experiences for the customer on your blog.
2. Identifying the blog's audience
A blog is a way to connect with your audience, so it begs the question who is your audience?
We recommend you start by identifying a buyer persona for your specific business. The idea behind it is that it is more effective to reach a specific group of people rather than trying to reach everyone.
As you flesh out your buyer persona or ideal customer profile (ICP), put yourself in their shoes to start thinking like them:
What are the problems they are trying to solve?
What product/services are they looking for to solve their problems?
What matters to them in the decision-making process?
The more you know your audience, the more relevant content or blogs you can create.
This means you must be able to write about topics that are valuable to your target audience, and that it answers questions that they have been thinking about.
What does your audience want to know? Read on.
3. Choosing the right blog topics
Finding the blog topics to write about takes a little bit of planning and thought.
Knowing your audience is a key first step in fleshing out blog topics. Your audience will guide the content you are writing in your blogs.
Pro Tip: Brainstorm a list of 100 blog topics based on your target audience.
The right message to the right people will result in the right outcomes.
Here's something to think about for finding the best topics to write about, courtesy of our friends at Ahrefs.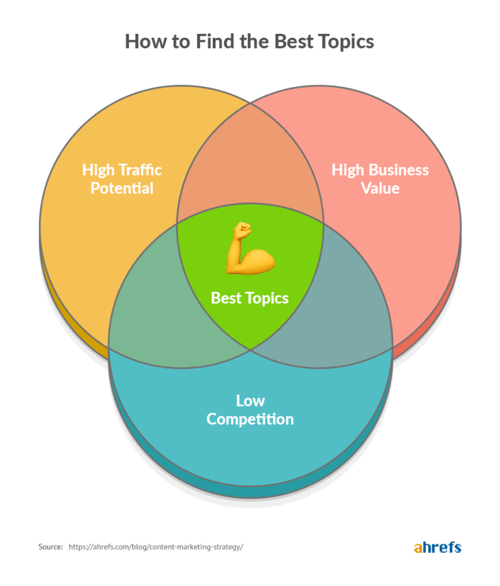 According to Ahrefs, here are 3 metrics to consider for blog topics:
Traffic potential – How many times a month is that keyword searched for in Google?
Ranking difficulty – How hard is it to rank in organic search results for that keyword?
Business value – How relevant is your product in connection to the topic?
The best topics sit right in the sweet spot of having high traffic potential, business value (that can result in sales) and ranking difficulty.
With your list of brainstormed blog topics, you can consider ranking them in order of traffic potential, ranking difficulty and business value. This helps you narrow your list and prioritise writing blogs that consider all 3 metrics.
Pro Tip: Finding out traffic potential and ranking difficulty requires an SEO tool like Ahrefs.
This approach will at least guarantee some measure of success in time, rather than having a scattered approach to blogging. In most situations, this is what we would recommend for your content marketing strategy.
How to measure the ROI of your blog
To ensure that your efforts in blogging bear fruit, there are a couple of metrics that matter for blogging:
Subscribers
Marketing Qualified Leads (MQLs)
Sales Qualified Leads (SQLs)
Opportunities
Customers
Social shares
Keyword rankings
Backlinks
Organic search traffic


Continue to measure these numbers consistently as you publish regularly. Ultimately, the most important metric is: has your blog helped in increasing customers?
Bonus: What are the costs of starting a blog?
There is one more important element to consider before starting a blog and that is the running costs. As we eluded to earlier, running a blog is a long-term strategy.
Don't take this as a cop-out that blogging cannot get you instant results. The truth is that blogging (like inbound/content marketing) takes time to get results.
One of the main reasons is the Google search algorithm, which crawls, indexes and then ranks websites in the search engine results pages (SERP).
Because the results take time, it's worth thinking through the costs to the business when starting a blog.
Costs related to starting a blog:
Domain hosting
Website/blog theme (HubSpot CMS, WordPress)
Blogging tools, resources and plugins
The start-up costs for the first year of running a blog is anywhere from US$72 to US$150 a year (AU$103 to AU$214).
One more consideration is the human hours required in both web development and writing the blog. Whether you're hiring a freelancer or an internal person to write a blog, consider the cost of each blog article to be about AU$100 to AU$300 per post.
However, don't let these costs scare you from starting. It's easy to fall into the trap of measuring the success of the blog by ROI only — this would be a mistake.
Think about blogging as more of an investment with compound interest over time. A well-executed strategy will give you long-lasting returns in both website traffic, subscribers, leads and customers.
Conclusion
Blogging is no longer a niche channel but a necessary channel for acquiring customers in 2022. In terms of ROI, you'll be hard-pressed to find any channel that gives you more return than a well-crafted blog.
To sum up, think about these as you start your blog:
Why are you starting the blog?
Who are you writing for?
What type of content will you create?
Where will you publish the content?
How will you create the content?
You now have all you need to start a blog. Reach out to us if you'd like an extra hand in building your blog in 2022.
Go for it!
Posted on
31 January, 2022
by Samuel Cheong