LinkedIn is a B2B gold mine and the go to platform to get in front of decision makers, influencers and future leaders.
It's an excellent tool to build brand awareness and drive super-qualified leads.

Nothing comes close to LinkedIn when it comes to its B2B targeting options. Being able to target prospects by location, industry, company size, seniority and job title is unparalleled and enables B2B marketers to get their brand in front of the right people at the right time.

LinkedIn is unique in that professionals come to LinkedIn ready to do business. LinkedIn is the home for industry news, insights, trends, research, recommendations and the ideal location for your latest eBook, white paper or video series. If you're in the business to business (B2B) space, LinkedIn should be a focal point of your paid advertising marketing strategy.

As at June 2021, LinkedIn has 750 million professionals, 4 of 5 members drive business decisions and it has been touted as the #1 platform for lead generation. According to LinkedIn, 92% of B2B marketers leverage LinkedIn over all other social platforms.

This 3,500+ word ultimate guide walks you through the top 11 steps to get started with LinkedIn ads and how to optimise your ad spend for ROI.
1. Setup LinkedIn Campaign Manager Account
If you don't have a Campaign Manager account, it only takes a minute to create one.

Campaign Manager lets you set a budget, select goals (clicks vs. impressions), and have complete control over your campaign's timeline. In addition, the platform includes several features designed to help you meet your advertising goals.

To setup an account, you'll need to login to your LinkedIn profile and add your Account Name, link your LinkedIn Company Page and add billing details and access.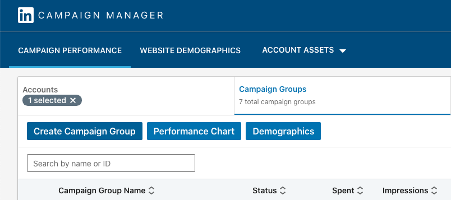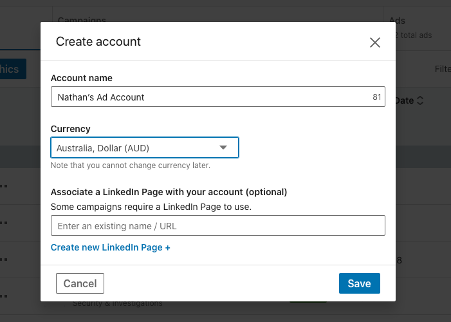 2. Setup your LinkedIn Insight Tag
Like the Facebook pixel or Google Ads tracking code, the LinkedIn Insight Tag enables you to optimise your campaigns, track conversions, remarket to your website visitors and learn more about your audiences.

Once the Insight Tag is added to your website's global footer, right above the closing HTML <body> tag, your domain will appear in LinkedIn with the time of the "Last signal received."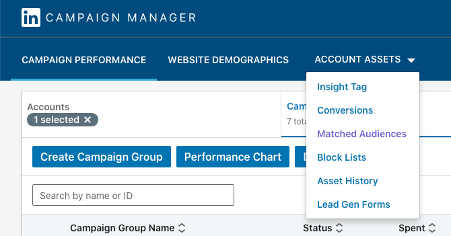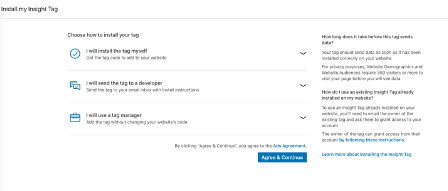 3. Setup LinkedIn conversions
It's near impossible to demonstrate ROI without tracking conversions (leads) from ad spend.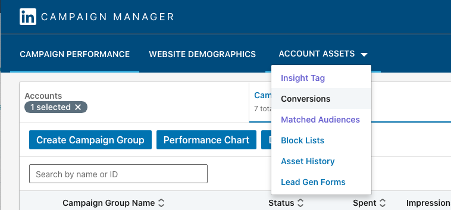 Once you click Conversions, you click on "Create a conversion." Conversion tracking helps you measure and optimise the actions visitors take on your website after seeing your LinkedIn ad, like filling a form or registering for an event.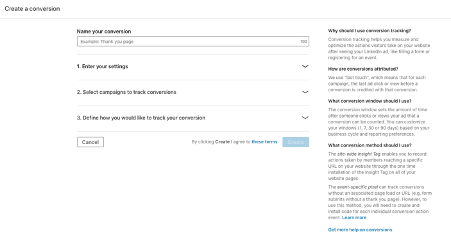 What about attribution? LinkedIn uses "last touch" attribution, which means that for each campaign, the last ad click or view before a conversion is credited with that conversion.

You can also set your conversion window — which sets the amount of time after someone clicks or views your ad that a conversion can be counted. You can customise your windows (1, 7, 30 or 90 days) based on your business cycle and reporting preferences.

LinkedIn defaults to 30 days for clicks and 7 days for views.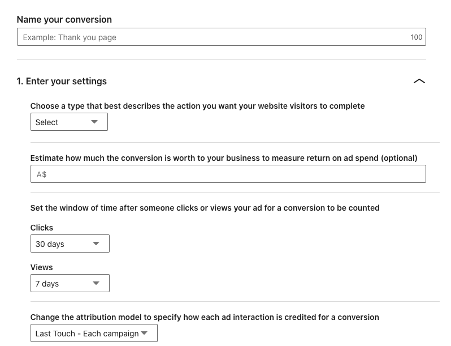 In this section, you can also "Select campaigns to track conversions" if you have existing campaigns created or you can skip this step.

LinkedIn has two conversion methods to choose from — the site-wide Insight Tag enables you to record actions taken by members reaching a specific URL on your website through the one time installation of the Insight Tag on all of your website pages.

The event-specific pixel can track conversions without an associated page load or URL (e.g. form submits without a thank you page). However, to use this method, you will need to create and install code for each individual conversion action event.
A little pro tip from us to use the option "starts with" instead of "equals" or "contains" to make sure you don't miss any conversions that might have various UTM parameters which can alter the URL of your thank you/conversion page.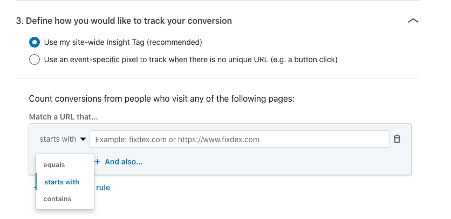 4. Setup LinkedIn Matched Audiences
Arguably, not as powerful as Facebook's Audience tool, LinkedIn's Matched Audiences allows you to create a range of custom audiences.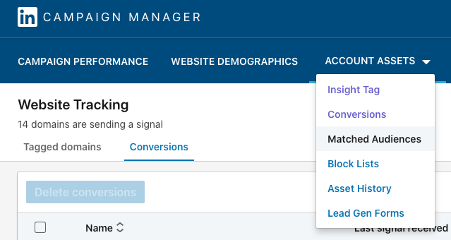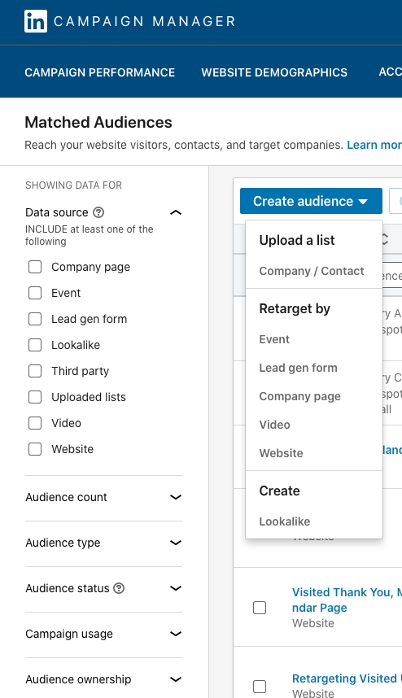 You're able to upload your contact or company list to target your existing leads and customers from your CRM.

You can also setup remarketing audiences based on:
visits to your company page or website
interactions (views or submissions) with your lead generation form
engagement with your videos based on people who have viewed at least 25%, 50%, 75% or 97% of your video
RSVP'd to your LinkedIn event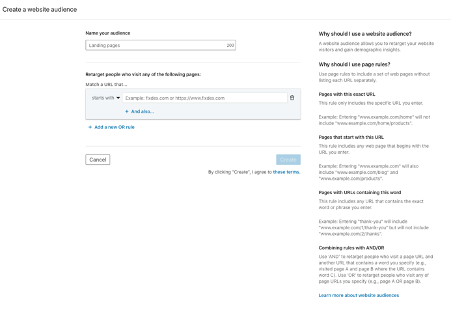 You can also create a Lookalike audience that expands your selected Matched Audiences and helps to find people with similar characteristics.

Lookalike audiences use a proprietary algorithm to build upon your selected audience. LinkedIn member profile data and company attributes are used to determine similarity to expand to audiences based on similar characteristics.

Your lookalike audience size can be up to 15 times larger than your original audience size and your original Matched Audiences segment will not be included in your new lookalike audience.

Lookalike audiences will match based on member and company similarities, but it's not a guarantee that any particular characteristics will be shared. For example, lookalike audiences do not use sensitive demographic attributes such as sex or age within the model.

Once your lookalike audience has been added to a campaign, you can also select additional targeting facets, like job function and company industry, to further refine your target audience.

Having said that, lookalike audiences need to be created from valid matched audience segments with at least 300 matched members. Matched audiences that are still building, expired, or in an error state can't be used.
5. Setup LinkedIn lead gen forms
LinkedIn lead gen forms provide pre-filled forms for your LinkedIn ads, allowing you to more easily collect quality leads while removing the hassle for users.

Lead gen forms provide an alternative to sending traffic to your landing page or website.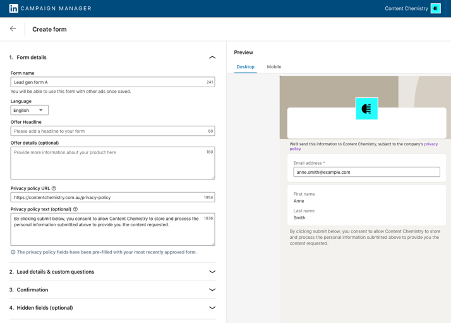 LinkedIn lead gen forms also provides you with a number of field options so you can tailor the form to get the information you need.

From our experience, we find the LinkedIn lead gen forms perform very well, both in terms of conversion rates and cost-per-lead (CPL) metrics. We typically A/B test sending traffic to landing pages vs lead gen forms to see which option provides the best overall ROI.

The key difference between using a lead gen form vs a landing page, is that once the lead completes the lead gen form, they will typically be able to download the content (e.g. eBook, white paper, report) straight away via a unique URL. In a way, this limits your sales funnel. In contrast, using a landing page instead of a lead gen form, enables you to better control the user experience and make use of thank you pages to pitch offers, upsells, etc.

Here's some specifications when naming your lead gen form.

Form Name: 256 characters
Landing page URL: 2000 characters
Offer Headline: 60 characters
Offer Detail (optional): 160 characters
Privacy Policy: 2000 characters
Call-to-Action: 20 characters
Confirmation Message: 300 characters

When it comes to lead gen form field best practices, 3-4 fields are recommended as best practice and 12 fields are the maximum.

Here's a list of the available lead gen form fields:
Contact
First name
Last name
Email address
LinkedIn Profile URL
Phone number
City
State/Province
Country/Region
Postal/Zip code
Work email
Work phone number
Work
Job title
Function
Seniority
Company
Company name
Company size
Industry
Education Degree
Field of study
University/School
Start date
Graduation date
Demographic
Number of custom questions (optional): 3
Number of characters in a custom question: 100
6. Create a LinkedIn Campaign Group
The next step is to create a Campaign Group. Campaign groups allow you to control budget, run dates, status, and reporting across multiple campaigns. Campaign groups are accessible from your account's overview page by selecting the Campaign Groups tab.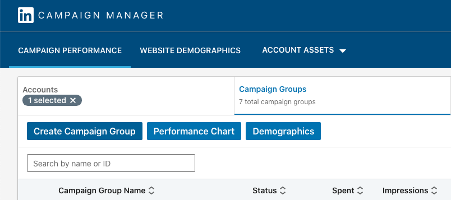 For example, advertisers might create a campaign group for various target audiences, marketing objectives, or marketing programs.

The campaign group budget will serve as a limit for the cumulative total of all campaign budgets within the group. A campaign group budget is optional and not required to create or run a campaign group. For example, you can run ads continuously instead and manage budgets at the Campaign level.

You can also pause or activate the campaign group, which will pause or activate all campaigns in that campaign group. You can create a maximum of 1000 campaigns in one campaign group and there is no maximum for the number of campaign groups that can be created in an account.

Pro tip: after campaigns are launched, they cannot be moved to a different Campaign Group.

LinkedIn's Campaign Groups are like Facebook and Google's Campaign level/hierarchy.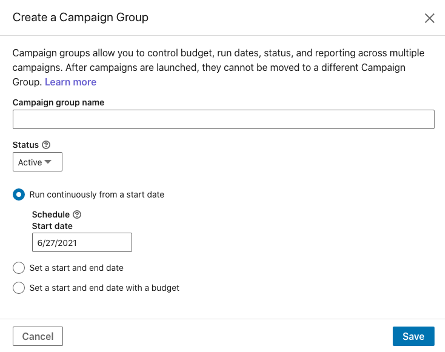 A little note regarding Default Campaign Groups. The Default Campaign Group is a campaign group that was automatically generated in Campaign Manager when the campaign groups feature was launched. All campaigns that existed in your ad account before the launch of campaign groups are placed in the Default Campaign Group. All newly created ad accounts also include a Default Campaign Group.
7. Create a LinkedIn Campaign
Once you have your Campaign Group created, the next step is to setup and name your Campaign. LinkedIn's Campaign level is like Facebook's Ad Sets and Google's Ad Group's.

Campaigns are a great way to split out your Campaign Groups by objective, target audience, ad format or some other metric.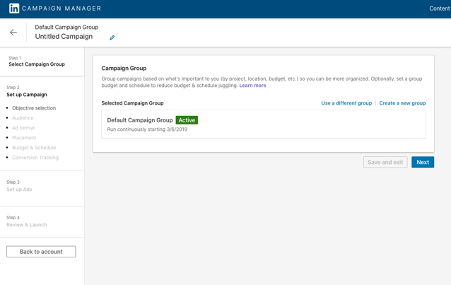 8. Select a LinkedIn Objective
The next step is to choose an objective, which LinkedIn breaks up into three types: awareness (brand awareness), consideration (website visits, engagement or video views) and conversions (lead generation, website conversions or job applicants).

Here's a summary of each type.

Awareness
Brand awareness: Get more people to know your brand through impression-based campaigns
Consideration
Website Visits: Get more people to visit a website

Engagement: Drive clicks, social actions and company page follows

Video Views: Tell you product or business story through video
Conversion
Lead Generation: Get leads using forms pre-filled with LinkedIn member information

Website Conversion: Drive valuable action on your website such as collecting leads or downloading ebooks

Job Applicants:

Promote job opportunities at your company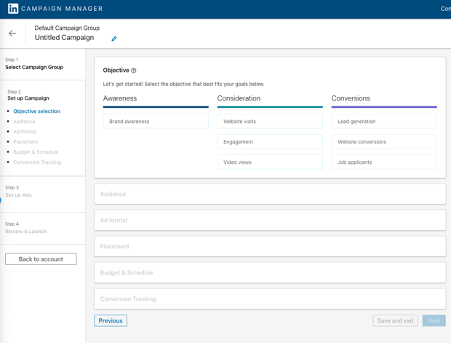 From a lead generation perspective, you'll choose either "lead generation" which uses the native LinkedIn lead gen form, or "Website conversions" which drives traffic to your landing pages.

Here's the recommended LinkedIn ad formats based on your preferred objective. We'll cover each LinkedIn ad format in more detail below.
Brand awareness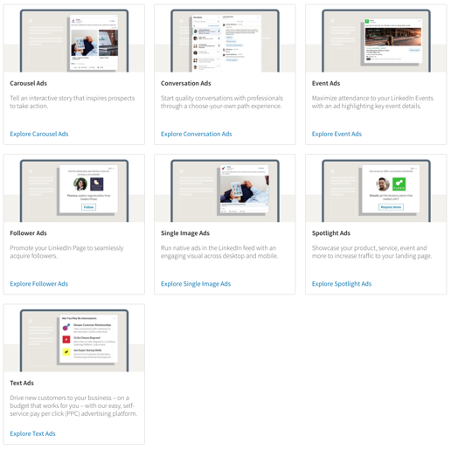 Website visits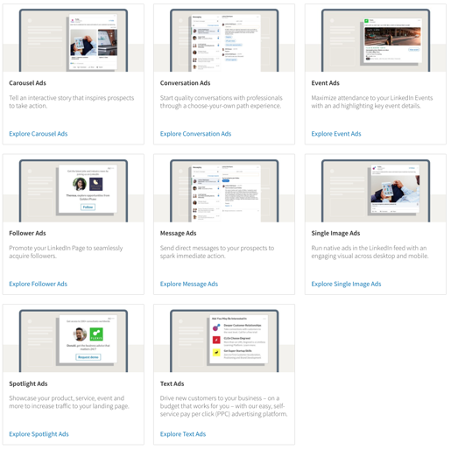 Video views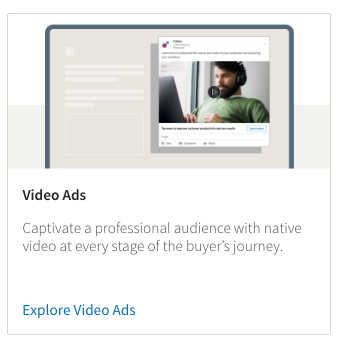 Engagement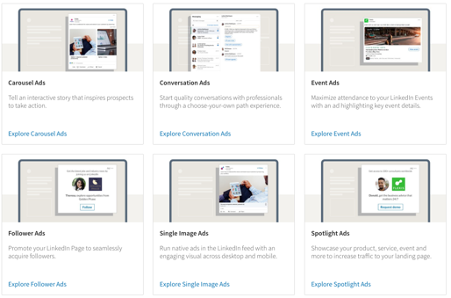 Lead generation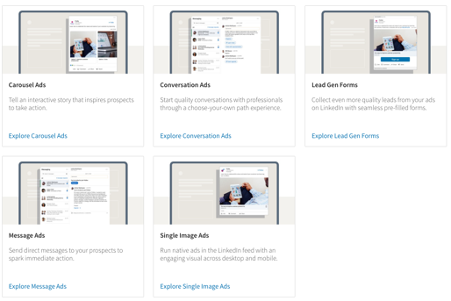 Website conversions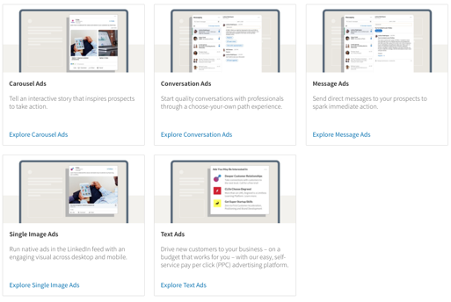 9. Create your LinkedIn target audience
Once you've selected your objective, the next step is to create your target audience. This is where LinkedIn really kicks some B2B goals! LinkedIn's ability to target prospects by over 20 different audience attributes is outstanding. The right target audience allows you to focus your campaign on the people most likely to take action on your ads.

You can build a target audience using targeting attributes or Matched Audiences retargeting features.

Pro tip: make sure your target audience is large enough to meet your campaign goals. The minimum audience size required to run an ad campaign is 300 members, but LinkedIn suggests a minimum audience size of 50,000 members to drive results for your campaign.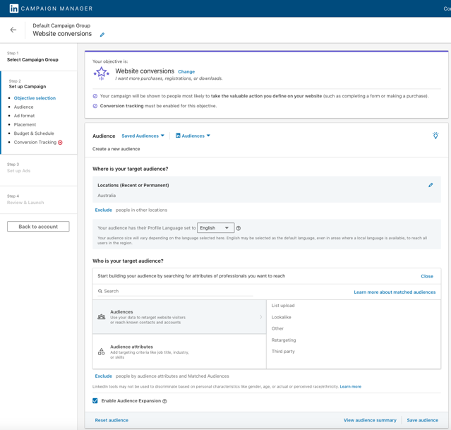 LinkedIn targeting is broken up by: location, audience attributes and custom audiences (e.g. Matched Audiences).

Here's some more information on each type of targeting option.

Location

Reach members based on where they live or visit by searching for locations. Geographic location is based on the permanent or long-term location specified by the member in their profile and/or by their IP address for short-term visits.

Audience attributes

Company
Company Connections: Allows you to reach the 1st-degree connections of employees at companies you select. This is only available for companies with more than 500 employees.

Company Industry: The primary industry of the company where the member is employed.

Company Size: Allows you to reach members based on the size of the organization where they work. Company size is determined by the number of employees listed on the organisation's LinkedIn Page.

Company Name: The organisation a member lists as his or her employer. These are based on LinkedIn Pages, which are maintained by company employees.

Company Followers: Allows you to target your own LinkedIn Page followers. To use this targeting facet, your Ads account must be associated with your LinkedIn Page. When not utilising this facet, by default your campaigns may reach both followers and non-followers.

Company Growth Rate: Allows you to target companies by their rate of growth year over year, determined by factors such as employee growth or inferred data from other similar companies within the same location and industry.

Company Category: Allows you to target companies by custom segments such as such as S&P 500.
Demographics
Member Age: An estimation of how old a member is based on their profile information.

Member Gender: Determination of whether a member is female or male is inferred, based on their profile information.
Education
Fields of Study: The major or area of study within a member's degree. Standardised from member-entered degrees.

Member Schools: The school, college, university, or other learning institution where a member completed a course.

Degrees: Recognised ranks granted by a college, university, or other learning institution.
Job Experience
Job Function: Based on standardised groupings of the job titles entered by LinkedIn members.

Job Seniority: Describes the rank and influence of a member's current role in their organisation.

Job Title: When members update their LinkedIn profiles with new roles, these job titles are grouped by LinkedIn's algorithms and organised into standardised titles.

Member Skills: Highly relevant keywords found within a member's profile and skills section that indicate expertise in a particular area. Member-entered skills in the Skills & Endorsements section on their profile, skills mentioned in their profile text, or inferred skills based on their listed skills.

Years of Experience: Reach a target audience based on the years of professional experience they've accumulated. We exclude any gaps in experience and don't double-count overlapping positions.
Interests and Traits
Member Groups: LinkedIn Groups where members who share interests or professional associations can gather, discover new information, and ask questions. Note: To prevent ad targeting discrimination based on protected characteristics, member groups may not be used in an exclusive manner.

Member Interests: Interest categories identified by and inferred from member actions and engagement with content on LinkedIn. Learn more about interest targeting options.

Member Traits: Direct and inferred behaviour traits based on member actions on LinkedIn, profile information, and more. Learn more about member trait targeting options
With so many targeting combinations to choose from, it can be hard to know how to zero in on an audience that will work best for your content. Here are some tips when it comes to creating your audiences.

For starters, it's a good idea to focus more on business identifiers and less on demographics like age and gender. Here are some tips to keep in mind:
Location/Job Titles: When using job titles as part of your audience set-up, consider leaving off other criteria since you are already being very specific. Consider adding in Years of Experience to focus in on seasoned professionals.

Location/Company Size/Seniority: Be mindful of seniority levels as they may vary depending on the size of the company or even the industry. Consider A/B testing against alternatives like Years of Experience + Job Function.

Location/Industry/Job Function: Incorporating industry into your targeting mix will focus on employees who work at the company within that industry. Industry targeting is useful when your product is only relevant to companies within a specific industry (e.g. Software for real estate companies).
When you select a few targeting options, LinkedIn will provide Forecasted Results on the right side of the page when you create a new campaign in Campaign Manager.

During the creation of a new campaign, the Forecasted Results window generates expected campaign performance details in real time as you select various campaign details like including target audience size, ad type, budget and more.

The Forecasted Results provide an estimate of:
Target audience size

Breakdown of target audience by segment

Projected spend

Projected number of impressions

Projected number of clicks

Estimates for the Key Results related to your selected objective
10. Choose your LinkedIn ad format
The next step is to select your ad format. LinkedIn breaks it down by: Sponsored Content, Message Ads, Dynamic Ads, Text Ads or a mix of all four. Let's dive into each type.

Sponsored Content
Sponsored Content appears directly in the LinkedIn feed of professions you want to reach, and comes in three different formats: single image ads, video ads, and carousel ads. Using Sponsored Content, you can:
Target your most valuable audiences using accurate, profile-based first-party data
Reach a highly engaged audience with native ads in a professional feed across desktop and mobile
Drive leads, build brand awareness, and nurture key relationships at every stage of your sales cycle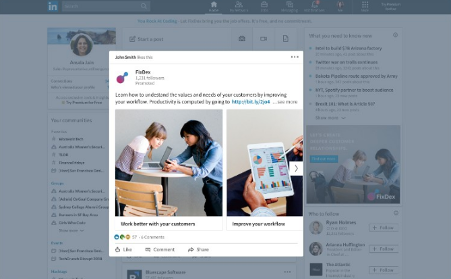 Here are some of the different types of Sponsored Content available.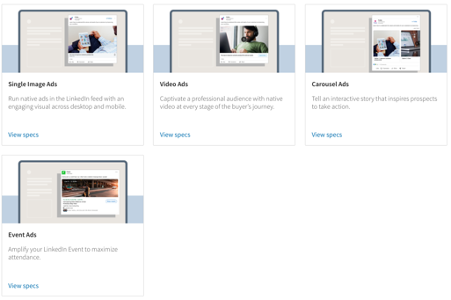 Message Ads
Message Ads lets you reach your prospects on LinkedIn Messaging, where they increasingly spend most of their time and where professional conversations happen. Using Message Ads, you can:
Send direct messages to your prospects to spark immediate action
Drive stronger engagement and response than traditional email marketing
Measure the value you're getting by seeing which roles and companies are taking action on your message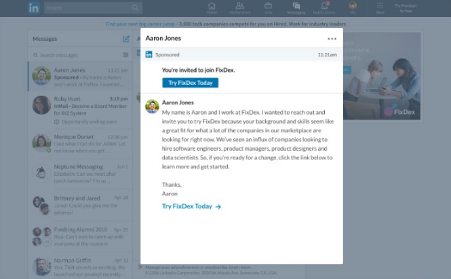 Here are some of the different types of Sponsored Messaging available.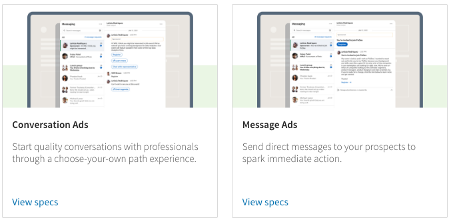 Dynamic Ads
Select a Dynamic Ad format to personalise your creative for each member in your target audience at scale. Dynamic Ads use LinkedIn profile data, like photo, company name and job title to personalise ads. Increase engagement with these three formats:
Follower ad: Promote their LinkedIn Page or Showcase Page and drive members to follow their LinkedIn page with a single click on the ad from the desktop experience.
Spotlight ad: Drive website traffic or spark an action like event registration or showcasing a new product.
Jobs ad: Increase relevant applicants by personalising ads to top talent on desktop and mobile experiences.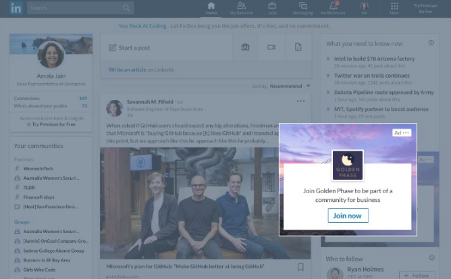 Text Ads
Text Ads are simple but compelling pay-per-click (PPC) or cost-per-impression (CPM) ads. Using Text Ads, you can:
Easily create your own ads and launch a campaign in minutes
Tailor messaging to the professionals you need to reach
Pay for only the ads that work – per click or per impression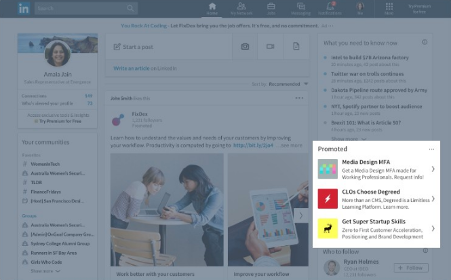 Here are some of the different types of Text and Dynamic Ads available.

LinkedIn also provides the ability to run your ads on partner apps and websites — LinkedIn Audience Network. The LinkedIn Audience Network feature is currently available for campaigns using single image and video ad formats.

11. Select your LinkedIn budget, schedule and bidding
The next step is to set your budget, start date, end date and bidding. LinkedIn will typically recommend a minimum daily budget here. You also have the option to set a daily budget or a lifetime budget. Based on your objective, LinkedIn will provide a recommended bidding strategy and provide an automated and/or a manual bidding option.

Like with any solid marketing campaign, it should be data and ROI driven. When you get started, test and measure your campaigns and put more of your budget into campaigns that are driving the most sales.

There are three LinkedIn bidding options:
Automated bid: which allows LinkedIn to determine what amount will maximise your campaign objective and whatever option you choose (Clicks, Impressions, or Conversions).
Maximum cost-per-click (CPC) bid: where you'll be charged each time someone clicks on your ad. LinkedIn will suggest a bid range depending on your budget and the competition for your ads — the more advertisers bidding on a similar campaign, the higher your bid will need to be. This bid is the maximum you will be charged. If the current rate is lower than your max bid, you will only be charged the current rate.
Maximum pay-per-1,000 Impressions (CPM) bid: where you'll be charged a certain amount each time your ad is viewed by every 1,000 people on LinkedIn. This option is unavailable if you're using the LinkedIn Audience Network option.
Along with choosing the right option for your campaign, you will enter a suggested bid, daily budget, start date, end date and total budget. Regardless of the end date you choose, you can cancel your campaign at any time. It's also important to note that LinkedIn uses an auction system for bidding that rewards engagement, meaning you can win an auction without being the highest bidder.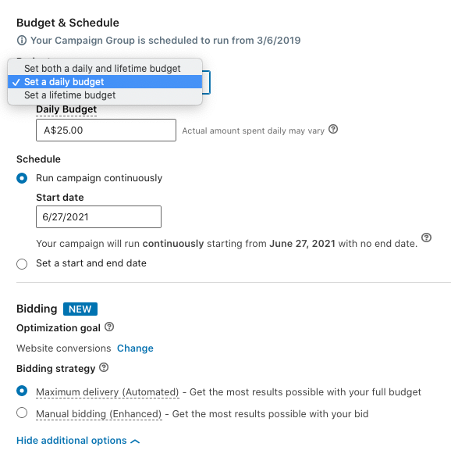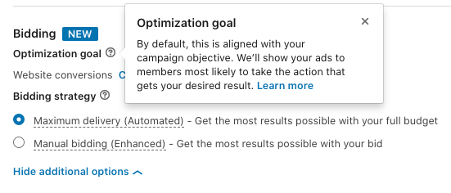 Conclusion
If you're looking to dial-up your B2B marketing and target prospects with a much more laser-focused strategy, LinkedIn ads are a no-brainer.

But they can also work well if you're in the B2C space, selling a consumer product that appeals to business-minded or affluent customers.

To complement LinkedIn ads strategy, we also recommend growing your personal network by reaching out to target prospects in a helpful way, and increasing your engagement.

Like an audit of your current LinkedIn campaigns or need a hand getting started? Get in touch.
Posted on
27 June, 2021
by Nathan Reiche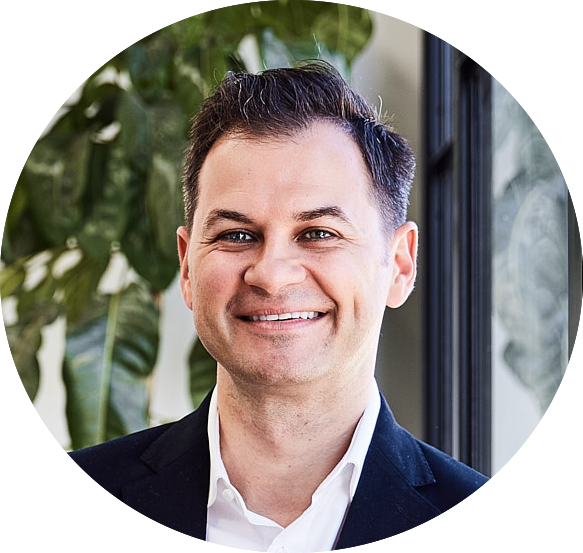 Nathan Reiche
Nathan is the CEO and Founder of Content Chemistry, a digital marketing agency and a HubSpot Platinum Solutions Partner based in Sydney. He has over 15 years' marketing experience in Australia and Europe, working both on the client-side and as an agency. He's passionate about content/inbound marketing, SEO and sales funnels. And yes he's been told that he looks like Roger Federer.