Modern businesses are now playing a new game to win. Start with the right team so that you can play to win.
Airbnb
"Uber, the world's largest taxi company, owns no vehicles. Facebook, the world's most popular media owner, creates no content. Alibaba, the most valuable retailer, has no inventory. And Airbnb, the world's largest accommodation provider, owns no real estate.
Every night, 2 million guests stay in one of Airbnb's 7 million listings hosted by one of their 2.9 million hosts located in one of the 100,000 cities around the world.
Airbnb might present itself as a hotel alternative, but here's the kicker — Airbnb doesn't own any of the listings.
It zigs the zag of the traditional hotel business model by offering an alternative that is a win-win for everyone — host, traveller and Airbnb — without the downsides of ownership. A hotel that doesn't own its own rooms.
New world = a new game
You are a small business owner and your business has already been disrupted by a once in a generation pandemic.
Things are moving fast in a changing landscape. Words like 'adaptability' and 'pivot' are thrown around.
Here are some statistics that small businesses ought to take note of about digital marketing: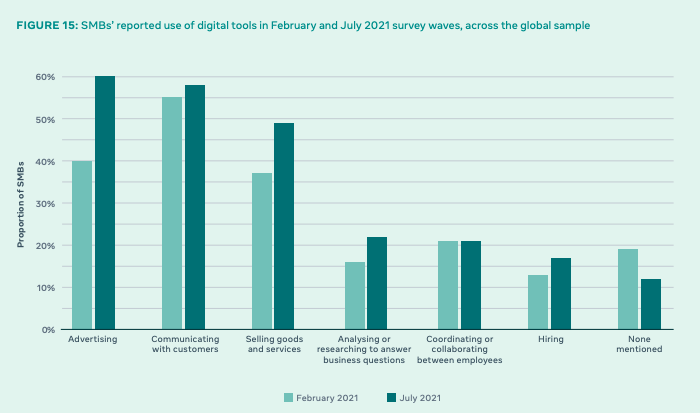 Digital tools usage has increased particularly in advertising, sales of goods and services and in business analysis.
As with the Airbnb story, is there a new game for businesses wanting to grow and scale — where you get the benefits of marketing expertise without the downsides of hiring and building a team?
Here's what that looks like:
Old game

: Hire people and build the team

New game

: Outsource your marketing


Why should you partner with a digital marketing agency?
There are only two main reasons a business or Marketing Manager might choose to partner with a digital marketing agency vs hiring a full-time employee (FTE).
The two reasons are:
Lack of time
Lack of experience
This is what can be called the "growth bottleneck." What's limiting the growth boils down to the lack of time the business is investing in driving sales/marketing and the lack of experience in scaling up.
Hiring a FTE also takes time before you can ramp up to full productivity. There are considerations like culture, training and onboarding that takes place, not to mention the various setup costs of hiring a FTE such as interviewing candidates and making offers.
Partnering with a digital marketing agency means bringing in the right experience that works towards your goals immediately. It's like getting an F1 driver as your Uber to get you to your goals, only faster.
The way we see it, business owners and marketing managers want to work on the business, not in the business. Driving growth is really what a digital marketing agency is all about.
What is a digital marketing agency?
To understand what a digital marketing agency does, we must first understand what digital marketing is.
Digital marketing is all of your online marketing efforts. It is a key part of your marketing strategy as it allows you to reach your ideal target audience where they are spending the most time — online.
A digital marketing agency helps you grow your business by executing marketing campaigns using your online branding assets and channels.
These owned assets include:
Website and blogs
Social media profiles
Emails and newsletters
eBooks and whitepapers
Video content
Knowledge base
Digital marketing also uses paid channels such as:
Digital advertising (banner, display ads)
Pay-per-click (PPC)
Boosted/sponsored posts
The hardest to get are earned channels which are:
Online reviews and ratings
Media coverage of your product/service
Social media posts that tag your brand or share your content
In a way, digital vs traditional marketing is redundant. Your business today needs to have digital as a key part of your marketing strategy.
A digital marketing agency will either help you expand on all of these marketing channels in order to generate more traffic, leads and customers. More on the funnel in a short bit. But first...
Digital marketing vs inbound marketing
Inbound marketing runs in our blood here at Content Chemistry.
Naturally, the question you might be wondering is — what's the difference between inbound marketing and digital marketing?
Firstly, let's highlight where they are similar. Both occur primarily online. They both focus on creating digital content that is then distributed through digital channels to reach your target audience.
Did I say digital enough? 😉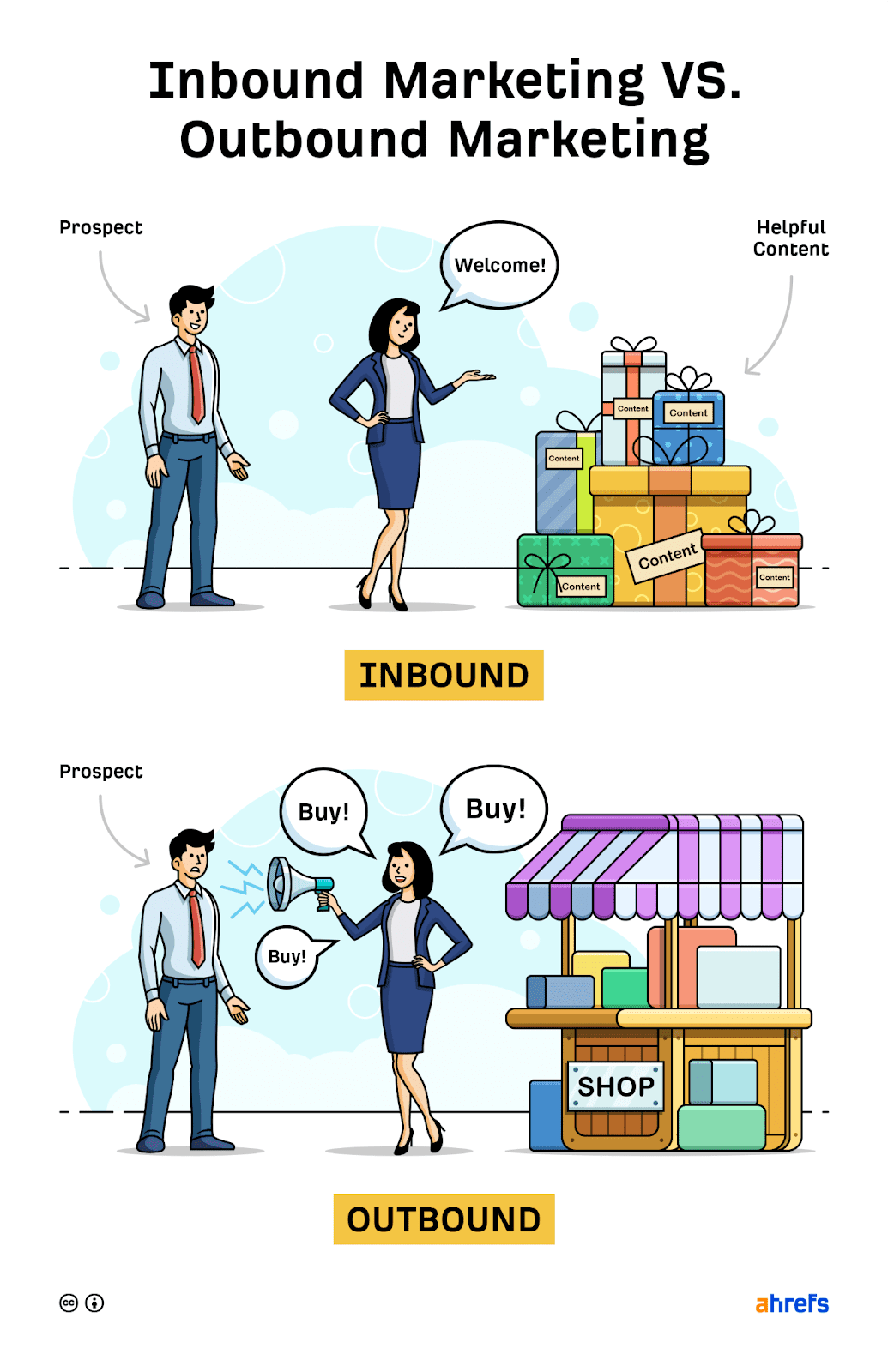 The difference between inbound and outbound marketing by Ahrefs.
The way they relate to each other is this — digital marketing encompasses all of your digital marketing efforts, which includes both inbound and outbound marketing. Inbound marketing is a subset of digital marketing, which we'll focus on here.
Inbound marketing is really just digital marketing that focuses on generating valuable content that attracts the target audience.
A digital marketing agency implements both inbound and outbound digital marketing campaigns with the sole focus of driving brand awareness and sales. They will do a mix of content marketing as well as digital marketing (SEO, PPC) to accomplish the business marketing objectives.
Both are crucial. Brand awareness drives demand which drives sales.
Let's dive deeper into inbound marketing and talk about the sales funnel.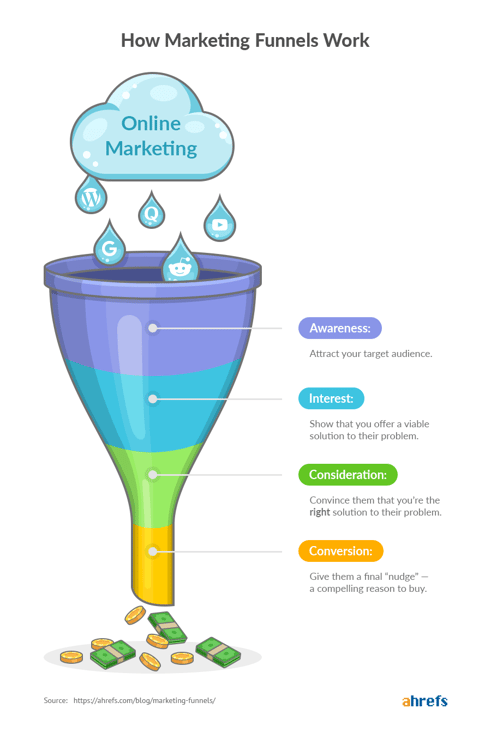 The inbound marketing funnel
If you peel the layers of any inbound marketing campaign, they are built around a marketing funnel that has 4 main stages:
Awareness

Interest
Consideration
Conversion
This is modelled closely to the buyer's journey:
Awareness (Top-of-Funnel, cold)

Consideration (Middle-of-Funnel, warm)

Decision (Bottom-of-Funnel, hot)
As we've covered in-depth in our previous article on content marketing, you are building content for each stage of the journey, and helping buyers move further along in their journey.
Digital marketing takes care of buyers at the top, middle and bottom of the funnel. That's through developing valuable content for every stage of the journey.
Here at Content Chemistry, we believe that marketing is alchemy — it is the science and art of using a chemistry-like approach paired with the creativity of marketing strategies to achieve marketing success.
Everything we do is centred around the funnel — creating more traffic, increasing leads and driving conversions.
Hiring an agency vs internal team
There are a few myths when it comes to working with agencies vs hiring your own internal team. We've listed down a few of them here, along with our recommendations.
1. No industry knowledge of your specific business
There are agencies that work with specific (niche) industries and those that work with a broad range of clients and industries. Often the concern of not having specific industry knowledge is thinking that agencies can't hit the ground running.
The reality is that agencies operate with certain playbooks and strategies that can be replicated across almost any industry. That's because while the products/services may change, the fundamental principles of marketing do not.
That is, marketing is not just business-to-business but it's about people-to-people. Putting the right message in front of the right person at the right time.
Pro tip: When researching and considering a digital marketing agency, look for case studies, testimonials and a record of getting results. Often, if they can replicate success across various businesses and industries, it means they have a formula that works.
2. In-house teams understand their business better
Having an insider's knowledge of your business — the products and services on offer — is definitely an advantage of in-house/internal marketing teams. An in-house marketing team live and breathe their business every single day.
A good agency will take the time to understand your business but there is something more important: an intimate knowledge of your customer, buyer persona/avatar or target accounts.
And that's where digital marketing agencies can really add value — they specialise in understanding your customers (better than they know themselves) and how to reach them with laser-like precision.
Pro tip: An agency's work should always start with mapping out your buyer personas in detail. Once that work is done, you can then focus on creating a content strategy to attract, engage and convert them.
3. You are not the only client
The most common objection to hiring agencies is that you are not the only client. Having someone managing things in-house means more control and focus can be given. This is fair and can't be argued.
Agencies are outcome-driven. They're primarily driven by the goals and outcomes that you want for your business. They are also more efficient in getting results, which means while they spend less time they might achieve more for your business than an in-house employee.
Pro tip: Be clear about outcomes and results from the outset.
4. They can't guarantee results
If anyone can guarantee results they are either lying to you or really lying to themselves. Almost no agency can claim to be able to rank you on the first page of Google in a month. And almost no agency will guarantee X number of leads per month/campaign (depending on their model).
Similarly, an in-house team are also unable to guarantee results.
Just like building a car, there are steps you need to put into place first before you can get going. We call this the sales and marketing engine. Once you have a working engine, you can then scale up and add fuel ($$$) to get it going.
Pro tip: Ask the agency for their strategy or playbook that they use to get results. Get them to talk through what month 1, 2 and 3 looks like from their end. A good agency will be transparent with their approach and process before spending your hard-earned money on advertising.
What are the benefits of working with a digital marketing agency?
Now that we've (hopefully) overcome some common objections re working with a digital marketing agency, let's look at the plus side of working with an agency.
Firstly, realise that working with a digital marketing agency is a partnership in every sense of the word. In order to get the best out of it, think of them less as an employee and more like a trusted business partner/advisor who cares about your growth — because we do!
We only win if we can help you win.
Here are some of the benefits of working with a digital marketing agency:
Access a broader talent pool, skills and experience

Manage your budget/cash flow more effectively
They can work with/bolt on to your existing marketing strategy/team
They're 100% focused on measurable results (no fluff!)
Access a fully outsourced marketing team/CMO for a fraction of the cost of a FTE (more on this below) 👇👇👇
There is also the added benefit of dialling up and down your marketing. With a FTE, who generally works about 40 hours/week, you can't scale down or up at will. On top of that you have superannuation to pay, annual leave, personal leave, long service leave, etc. — the list goes on!
Flexibility with resourcing allows agencies to scale up/down when needed which helps your cash flow and bottom line.
In addition, agencies are also able to provide specialised services such as:
Website design and development
Branding development/graphic design (logo, fonts, templates)
Copywriting
Video marketing
Marketing automation
Campaign management
A lot of these are "done for you." This means that they take care of the strategy, map out the scope and execute the deliverables with as much/little involvement by you as you like.
Digital marketing agencies are really a jack of all the trades when it comes to digital marketing!
What to consider when hiring a digital marketing agency?
Now that you're ready to hire a digital marketing agency, here are a few things to think about:
What is the business outcome you want?
What is the best marketing strategy to reach that goal?
Who do you need to implement that strategy?
We call this the needs analysis phase. Your needs come first before you find the right agency to work with.
Think of digital marketing agencies as partners not guns for hire. They become your MaaS (Marketing as a Service) operators, helping you manage your entire sales and marketing process and even improve it.
A big part of what an agency does is called marketing operations, defined here:
Marketing operations is an umbrella term that describes the people, processes, and technology that power a business's overall marketing strategy and increase chances of success.
The best marketing agencies should be able to help you to:
Get a return on investment on your tech-stack investments (HubSpot, WordPress etc)
Efficiently execute marketing strategies
Report on essential metrics and ROI
Because we all know that it is not just enough to run the marketing campaigns, it's also about measuring what matters, maintaining websites and automation tools, and mapping out strategies.
How much does it cost to hire a digital marketing agency?
According to Seek, an average digital marketing manager's salary is $110,000/year plus superannuation. This equates to about $10,000/month.
A general rule of thumb is that your marketing (growth) budget should be about 10% of your revenue.
If your revenue is $3 million a year, that means you should expect to spend about $300,000 per year or $25,000/month on marketing and growth activities whether that's using an agency or an in-house marketing manager.
Before you hire a digital marketing agency, it's worth noting that the cost varies widely depending on various factors — scope of work, deliverables, project length, etc. It boils down to the type of agency that you work with and what deliverables are you expecting out of them.
But most digital marketing agencies that are delivering a range of marketing services for you, normally start at $1,200/month and go up from there depending on your required deliverables.
Here are a few things to consider when developing your marketing budget:
Monthly retainer or management fees
Project management costs
Advertising budget
Technology and software costs
Here are the types of pricing models for digital marketing agencies:
Hourly billing
Project-based
Retainer model
Recurring model
Performance-based
Valued-based pricing
Customised pricing
The cost difference between a Lexus and Toyota may be arbitrary. You don't pay more and get more car. But what it does get you is a better experience and personalised service.
Here at Content Chemistry, we do good work for good people and we pride ourselves on our client service and our results.
One more thing: RevOps
Hiring an agency with marketing expertise is one thing, but here's something else to consider — how can the agency not just build the sales/marketing engine but make it go faster?
That's where revenue operations come in.
Revenue operations, or RevOps, is all about finding opportunities to improve sales and marketing (i.e. your revenue engine) by removing friction, building energy and momentum.
Here's a recent example of how we implemented this for a client.
We started by moving all of their customer data from spreadsheets into the HubSpot CRM and cleaning it up. Then we worked on mapping out their sales process and building all of their workflows and automation.
Finally, we worked on building customised dashboards and reports to create visibility and surface gaps or opportunities within their sales process.
All of this has helped the business not only toss out their reliance on spreadsheets and cobbled together systems, but now they have visibility through a single source of truth.
Our specialty as HubSpot partners means we are able to leverage the HubSpot platform that powers sales, marketing and customer service for our clients.
Conclusion
A digital marketing agency can be your partner to unlock business growth and help you take your sales and marketing to the next level.
When weighing up the decision to hire a digital marketing agency vs hiring an in-house team, you need to ask yourself what's going to deliver the most value and what's going to help you get from A (current state) to B (future state) in the least amount of time.
Posted on
30 November, 2021
by Samuel Cheong