You don't have a business without demand for your product or service. Demand generation is a long-term play to grow your business by growing demand.

Air Jordan - "It's gotta be the shoes"
What is the most desirable shoe brand in the world?
Ask a few sneakerheads and the answer invariably comes back to Air Jordans.
The meteoric rise of the Air Jordan brand came alongside the phenomenon of Michael Jordan and the 1990s all-star team of the Chicago Bulls. People couldn't get enough of Jordan, and they couldn't get enough of the Air Jordans.
The shoes were a cultural sensation and became a status symbol for basketball fans and non-fans alike. Air Jordan's lifted Nike's fortunes along with it, becoming one of the most successful endorsements and partnerships for Nike ever.
But what made the shoes a runaway blockbuster?
It was never the shoes all along. Sorry, Mike.
It's the brand that drives demand.
This story demonstrates the idea that demand is everything for a business. Without demand for your products and services, there is no business.
Every business needs to build demand but where does one start? We'll unpack what it means and how it can help your business.
Let's start from the very beginning.
What is demand generation?
The simplest way to understand demand generation is this — building a brand that drives demand.
We assume many things about brand building, but the simple truth is that brand building starts with your ideal customer. It doesn't start with you or your brand.
It starts with identifying who your dream customers are first.
If you're reading this article, chances are you're familiar with brand awareness. While the role of demand generation is about drumming up interest, it goes deeper than just brand awareness. To do that we need to explore the types of awareness customers have.
There are 5 stages of customer awareness:
Unaware
Problem Aware
Solution Aware
Product Aware
Most Aware
Most of us are very familiar with the standard marketing funnel — awareness, consideration and decision. Marketing tends to start at the problem aware stage.
Demand generation tends to start at the unaware stage. At this stage, customers don't know their problems, they don't know solutions, and they most certainly don't know you.
Demand generation is about creating the market by educating your ideal customers who are unaware that they have a problem.
Before you can start talking about your brand (which is a big no-no for demand generation), it is about creating content that educates and helps your ideal customers understand the problem and position yourself as a thought leader in the space.
Here's how HubSpot defines demand generation:
Demand generation is how your business reaches new markets and gets audiences excited about what you have to offer. The process helps you increase brand awareness, educates audiences, and generates trust.
Think about your customers and expand that to represent the entire market of people who are both aware and unaware of the problems. That's where you start for demand generation.
What's the difference between demand generation and lead generation?
Most marketing campaigns are centred around generating leads for sales. That's lead generation, which is built around exchanging contact info for (normally) a valuable piece of content.
To break it down further, there's a need to understand this important rule for demand generation:
Demand generation is not about generating leads.
That's where the main differences lie between demand gen and lead gen. The goal of demand gen isn't to generate leads for sales.
Instead, the goal is to educate potential buyers and position your brand as thought leaders and a potential solution to the need or problem.
Think about this; if you can articulate your potential audience's problems well, they will assume you have a solution.
Demand gen is a holistic approach and uses a bunch of different tactics that complement one another — lead gen and inbound marketing for starters — that contribute to the same end goal.
This brings me to the next point.
Demand generation is measured by revenue
If you can't measure demand, how then do you know if the efforts are impacting the bottom line?
Far from being 'unmeasurable,' there are some metrics that you can pay attention to that measure the impact of demand generation campaigns.
Here's a list of performance metrics for demand generation provided by Twitter:
Cost-per-lead
Average deal size
Conversion to MQLs
Cost-per-acquisition
Closing percentages
Funnel conversion rates
Lifetime customer value
While demand generation doesn't necessarily increase the number of leads — which is a measure that most marketers use — demand generation can have an impact on the quality of leads.
This can lead to a lower customer acquisition cost, lower cost per lead, and faster conversation rates. Now, who wouldn't want that?
Demand generation is a long term play with a compounding effect over time, resulting in more qualified and interested leads.
Here's a helpful graph to show how lead gen and demand gen scale.
Demand gen starts at the top-of-funnel stage
Another way to think about this, is that demand generation focuses on TOF (top of funnel) actions while lead generation focuses on the BOF (bottom of funnel).
TOF action is about creating awareness, of both the customer problem and your brand. BOF action is about nurturing that interest and capturing that demand as leads.
Here's a helpful graph to demonstrate this:
Identifying your target audience for demand gen
While there are many differences between demand generation and lead generation and even inbound marketing, there are plenty of similarities.
Here's where they are similar:
Clear target audience
Creating valuable content
Distributing content through various channels and platforms
It is worth saying that while your general audience may be similar or in fact the same, who you target for lead gen and demand gen are different.
For lead gen, you are targeting buyers with purchase intent who are ready to be moved to sales. However, demand gen is focused on a target audience that is most likely without purchase intent (yet).
A great example of TOF targeting is what HubSpot does with its blog.
The thousands of articles written on the HubSpot blog are mainly about one thing — to position HubSpot in the 'helping marketers' category. This not only aligns HubSpot with that audience but helps it be top of mind when marketers start exploring marketing automation or CRM solutions.
By focusing on your audience and their specific needs, you can develop content that addresses them specifically at every stage that they are at. Using solid content marketing strategies, you are able to create the content for the right audience at the right time.
Demand generation strategies for B2B marketing
Effective demand generation is firstly about identifying and knowing your target audience. That's the easy first step.
Next, it's all about creating valuable content and using effective distribution to reach them. Developing a strong ideal client profile (ICP) / buyer persona is important so that you know where your buyers are hanging out and where conversations about your brand are happening.
The buying process starts when customers become aware of their problems and are starting to explore solutions.
Here are examples of places where the buying process happens:
Communities & Groups (Slack groups/channels, Facebook groups, Discord, etc.)
Direct Word of Mouth (DMs, text messages, Zoom calls, etc.)
Content Platforms (Apple podcast, Spotify, YouTube, etc.)
Social Platforms (LinkedIn, Instagram, Reddit, etc.)
3rd Party Events & Meetups (events, conferences etc.)
It's important that you learn about the different platforms you have for distribution, which are namely your owned channels, borrowed channels and earned channels.
But there are some channels you have no visibility over. This is otherwise known as "dark social/funnel".
Here's a simple chart showing the different activities in demand gen: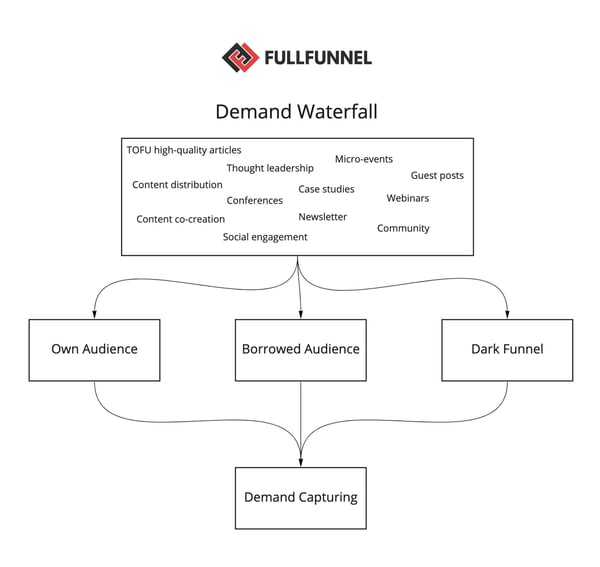 If you do your job right to generate demand, you can then begin capturing that demand. This is where lead generation strategies come into play.
In summary, to build your B2B demand gen strategy:
Identify your target audience
Create exceptionally good content
Distribute content where the audiences are
Capture demand where you can
Inbound marketing is a demand gen tactic
We've not forgotten about inbound marketing, and it's important to say that inbound marketing is a demand gen tactic.
Here's how inbound marketing is defined:
Inbound marketing is a business methodology that attracts customers by creating valuable content and experiences tailored to them. While outbound marketing interrupts your audience with content they don't always want, inbound marketing forms connections they are looking for and solves problems they already have.
A lot of what demand gen is really is the same thing, where you're building valuable content for your ideal customers.
While there are plenty of similarities, it's worth noting that demand gen sits much broader and earlier in the marketing funnel.
Another key difference is that inbound marketing focuses on creating content like blogs on your website with the purpose of driving traffic and attention back to your owned media — demand gen on the other hand, is about creating content that gets distributed among those places that your ideal customer hangs out — Slack or Facebook Groups, word of mouth, events and more.
Create alignment between your sales and marketing (smarketing) teams
For demand generation to be successful, marketing and sales teams need to be aligned toward the same goal — hence the phrase "smarketing!" By working together on the same team to accomplish the same goals, it helps drive business goals which drive ultimately revenue.
Demand generation (like inbound marketing), is a long term strategy for business growth. Marketing isn't the only owner of this campaign. Having teams in agreement with the strategy will ensure success over the long run.
One important element of creating alignment is using a platform (like the HubSpot CRM) to manage customers. This becomes the central source of truth for your sales, marketing and service teams to create experiences that can delight your customers.
Conclusion
Demand generation is all about creating demand for the market who aren't yet ready to buy (yet), creating brand association, brand loyalty, and brand affinity for your products and services.
If you're not investing resources into demand generation, it's important to reconsider now or risk losing out on huge opportunities for your business. Brands that invest in demand generation are building future pipelines with content that has a compound effect on driving quality and high intent leads.
Here at Content Chemistry, we can help you with building a demand generation strategy for your business by applying our expertise in inbound marketing along with HubSpot to deliver a powerful demand generation strategy that can transform your business. Reach out if you need help.
Go for it!
Posted on
06 April, 2022
by Samuel Cheong