Here at Content Chemistry (in full transparency), we're big fans of HubSpot. Evangelists if you will. Yes, we drink the kool-aid. Let me explain why.

This ultimate guide to HubSpot will flag why you should at least consider HubSpot, who HubSpot is a good-fit for, what is HubSpot and what are each of HubSpot's "hubs:" Marketing, Sales, (Customer) Service, CMS and Operations (brand spanking new). It will help you weigh up the business case for HubSpot (or not).
1. Why go HubSpot?
I'll also share our experience and journey as a startup business as we navigated all of the various paths and options before landing on HubSpot as our platform of choice.

We work with lots of businesses of all shapes, sizes and industries and sadly, many are working off spreadsheets and other archaic tools to run their business.

I get it, some businesses genuinely prefer the flexibility of cobbling together the specific tools they need — Franken-style (aka multi-tool chaos). They prefer to save a dollar instead of saving time, by integrating free or low-cost tools. They're OK sacrificing having all of their contacts, companies, opportunities, email marketing and analytics in one place.

For example, some businesses might prefer to hack a range of tools together instead of using an all-in-one platform like HubSpot, reasoning that niche/specialised tools are always better than "general" tools.

Consider this scenario. A business is using WordPress for their website, Instapage for landing pages, SEM Rush for SEO, Mailchimp for email marketing, Buffer for social media, Pipedrive (or Google Sheets) for their CRM, Yesware for email tracking, Wistia for video, Zapier for automation, Calendly for meetings, Proposify for proposals/contracts, Zendesk for customer service and Intercom for live chat.

All of these tools combine to a monthly cost of >$500 (easily).

The hidden cost to building a Franken-style setup is: Time. Given enough time anyone can fix a problem they run into using a Franken-style system. The problem is, time is the one thing business owners are always running out of.

Below are the most common reasons that HubSpot hears from customers about where they are losing time by having several disconnected systems.


Data
Combining spreadsheets, reviewing discrepancies and formatting data. This is a major time sink and a huge headache. The more systems you have the more difficult it can be for people to agree on a "single source of truth." When your website, marketing, sales, and service systems all sit on the same CRM you can avoid this problem.
Uncertainty and risk
Any system, software or tool you purchase is a risk. Will it live up to expectations? What if something breaks? Will the price increase? Will they remove features? Will the integration break? The reality is this — the more systems you use, the more integrations you need to maintain, the more exposure you have to company changes. For many users, if an integration breaks in one system there can be cascading effects. That means more time troubleshooting, more time on the phone with different account managers and more time making sure it won't happen again.
Brand
Maintaining a consistent brand across web, email, social, chat, sales, and customer service can be incredibly difficult. Each tool you use is another area to monitor to ensure you have a consistent brand experience. All-in-one systems like HubSpot make it far easier to maintain your brand because all logos, colours, design, images, etc. are being pulled from the same place.
Education
Every new software or tool you purchase is a new system to learn. You also want to purchase a system that is going to evolve and adapt to changes in the way consumers want to interact with businesses. With each new tool, with each new tool's updates, there are more things to learn. Learning takes time. Time you may not have.

To counter this problem, HubSpot offers full courses, certifications and lessons to get your team up-to-speed as quickly and efficiently as possible. In fact, HubSpot's free education platform — HubSpot Academy — is simply amazing and unparalleled. It offers 60+ free courses, 331+ free lessons and 18+ certifications on all things marketing, sales, customer success and the HubSpot software. The training is mostly video content, so you can pretty much binge-watch Netflix style — it's totally addictive and (warning) will totally take over your life.
Onboarding and technical support
This is a particular bugbear of mine (spoiler alert). As I mentioned earlier, we're all time-poor and when we're in a bind, we need answers to our questions and solutions to our problems fast. This is especially the case for startups and lean teams who are wearing lots of different hats.

HubSpot really excels here. I'd even go as far to say that this is HubSpot's "Purple Cow" — their unique point of difference. HubSpot's Technical Support team, who are based in the US of A, Singapore and Ireland are simply incredible. You can chat, email or request a call back from an expert HubSpotter 24/7, which has saved me many a time!

HubSpot also provides tailored onboarding from a certified HubSpot Solutions Partner (*cough* like us) or a dedicated HubSpot onboarding specialist. Your customised onboarding plan will help you get up to speed with HubSpot's software quickly — and transition from legacy software with minimal disruption to your business.

What other support does HubSpot provide? All professional and enterprise customers get access to a HubSpot Customer Success Manager — your dedicated expert for all things HubSpot — for the life of your subscription. They'll take the time to get to know you, understand your company's goals and work with you on a custom plan to achieve them.
2. What is HubSpot?
HubSpot is marketing, sales, and customer service software that helps businesses grow better and without compromise.

HubSpot's CRM platform has all the tools and integrations businesses need for marketing, sales, content management and customer service. Each product in the platform is powerful alone, but the real magic happens when they are used together.

The easiest way to understand what HubSpot is, is to walk through a typical customer/buyer journey. Every customer journey is different, but the goal is to move strangers to prospects (leads) to customers and hopefully to promoters.

This journey involves a number of steps from both the customer and the marketing/sales team, including visiting your website, downloading some content, learning more about your product/service, becoming a customer, providing customer feedback and referring your friends and family.

If you have a Franken-style, multi-tool setup mentioned earlier, this journey can start to fracture pretty quickly. For example, your website is on WordPress and you have limited visibility about who visited your website, when and how often. You're using Instapage to convert leads which doesn't feed back to your CRM. You're using Mailchimp to email your leads. To do this, you need to manually export/import these leads into Mailchimp every week/month. While you're in the sale process, moving the lead to a customer, you're using spreadsheets. When you land the customer (hooray!), you're reliant on Survey Monkey to handle customer feedback. Throughout this entire process, you lack a central "source of truth" to manage all communications with the customer.

HubSpot's CRM platform provides the tools needed to build and grow remarkable customer experiences that help spin your flywheel faster. It's all powered by the same database, so everyone in your organisation — Marketing, Sales, Service and Operations — is working off the same system of record. This allows for a smoother handoff between teams and results in a more delightful experience for your customers.

HubSpot is broken up into five hubs — Marketing, Sales, (Customer) Service, CMS and Operations. Here's a quick blurb on each, but we'll deep-dive more into each hub below.
Marketing Hub
Purpose: Generate qualified leads.
Create and manage content, capture leads, and nurture them until they're qualified and sales-ready.

Sales Hub
Purpose: Turn leads into customers.
Engage potential buyers, demonstrate the value of your offering and close deals.

Service Hub
Purpose: Convert customers into promoters.
Resolve customer issues and deliver an experience that turns customers into promoters.
CMS Hub
Purpose: Grow your business by incorporating your website into your growth machine.

Developers build using flexible themes and content structures. Marketers easily edit and create pages on their own. Customers get a personalized, secure experience. With CMS Hub, everyone wins.

Operations Hub
Purpose: Make your systems work better together.

Connect apps, automate processes and align teams around one source of truth for customer data.
3. Who is HubSpot a good-fit for?
You may have heard the term "inbound" before — but what is it, exactly? Inbound is a methodology for growing your organisation. It's based on building meaningful, lasting relationships with your prospects and customers through valuable content and experiences and empowering people to reach their goals at any stage in their journey with you.

The HubSpot CRM platform is a full suite of software built to power this inbound approach to help you — and your customers — grow better.

Here's a list of questions that identify a good-fit for HubSpot. If you answer yes to most of these questions, HubSpot is a great fit for your business.
Is lead generation a primary objective of your website?

Do your customers have a considered (not transactional) buying process (i.e. prospects typically need to gather and process information prior to making a purchase)?

Do you directly control converting your leads to sales and can easily follow up on inbound leads?

Is your sales process between 1 week to 12 months?

Is your average sales price >$500?

Do you have 2+ sales reps?

Are you currently investing in marketing?

Business-to-business (B2B) and SaaS businesses are a particularly great fit for HubSpot. eCommerce businesses can use HubSpot to integrate with Shopify, Big Commerce, etc. but aren't the ideal fit.

Here are some case studies that demonstrate HubSpot's value across a range of businesses and industries.
4. HubSpot CRM (Free)
Think CRM software is just about contact management? Think again. HubSpot's CRM has free tools for everyone on your team and it's 100% free.

Manage and organise your contacts in one powerful, easy-to-use database. Piles of business cards? Messy spreadsheets? Unorganised LinkedIn connections? Stop managing your relationships in silos.

HubSpot CRM takes minutes to learn and makes it easy to track every detail of your business relationships — all in one place. Manage your entire sales pipeline and organise and respond to all your customer support issues, all with the same tool.

Monitor your contacts' website activity, and identify new prospects visiting your site. It's free forever.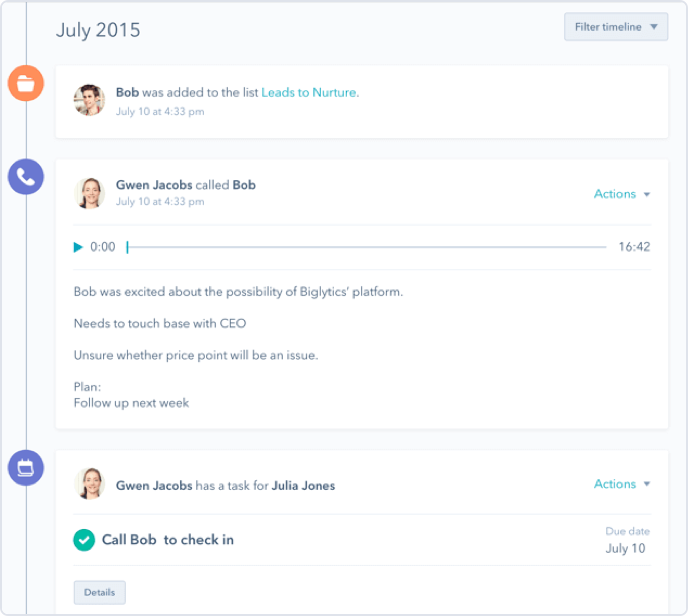 Email your contacts in bulk (for free) and capture new leads in your sleep. Create personalised emails in bulk to nurture your relationships with contacts and customers. It's easy when you use the same tool for email and contact management.

Add forms to your website to convert visitors into qualified business leads — no coding required.
And with built-in reporting, monitor the number of new contacts you're capturing, and keep track of all the tasks and activities that make up your relationships with customers.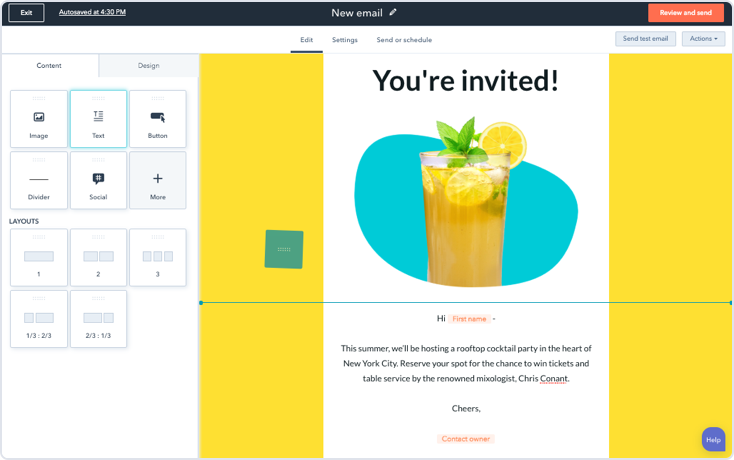 5. HubSpot Marketing Hub
All your marketing tools and data — all under one roof.

Marketing automation software to help you attract the right audience, convert more visitors into customers and run complete inbound marketing campaigns at scale — all on one powerful, easy-to-use platform.

The job is tough for modern marketers. Either you're juggling various point solutions, or you're stuck with tools that are powerful but impossible to use. This means scattered customer data, lacklustre marketing and too much time spent fussing with software. But it doesn't have to be that way.

With HubSpot's Marketing Hub, all your marketing tools and data are on one easy-to-use, powerful platform. You'll save valuable time and get all the context you need to provide a personalised experience that attracts and converts the right customers at scale.

6. HubSpot Sales Hub
Yes, it's possible to love your sales CRM.

Powerful sales CRM software to help teams close more deals, deepen relationships, and manage their pipeline more effectively — all on one easy-to-use platform.

For sales teams, friction is the ultimate foe. Stitching together individual point solutions and managing their complexities? It slows you down and stalls your growth.

HubSpot's Sales Hub eliminates friction by bringing all your tools and data together on one easy-to-use, powerful platform your whole team will love. Now you're freed up to focus on what really matters: your customers.

7. HubSpot Service Hub
Your customers expect more.

Customer service management software that enables you to scale your customer support, unite your front-office teams on one powerful, easy-to-use platform, and provide proactive service that delights and retains customers.

Today, customers expect resolutions in minutes and personalised, 24/7 service through various channels. But most customer service teams struggle to meet these growing demands because their tools and data live across multiple sources.

HubSpot's Service Hub brings all your customer service data and channels together in one place, and helps scale your support through automation and self-service. The result? More time for proactive service that delights, retains, and grows your customer base.
8. HubSpot CMS Hub
The content management system you need to easily create and personalise website pages for every visitor — optimised for conversion across every device. Rely on developers as much or as little as you'd like.

Enable your marketing team to make those last-minute updates on their own with flexible themes. Access resources and ideas from HubSpot's developer community.

Your commitment to safety and reliability is backed by HubSpot with their dedicated 24/7 security team and out-of-the-box features like enterprise-class web application firewall, SSL, custom CDN, SSO memberships and more.
9. HubSpot Operations Hub (New!)
To grow better, you need to run better.

Operations software that lets you easily sync customer data and automate business processes. Your entire team will stay aligned with a clean, connected source of truth for customer data and your business will be empowered to adapt to the ever-changing needs of your customers.

As companies scale, systems break. Every team builds their own process, data gets siloed and efficiency tanks. To grow better, operations teams need the tools that make them central to growth — not an afterthought.

Whether you're part of a central RevOps team or run Ops for a single department, HubSpot's Operations Hub gives you a unified toolset that connects apps, cleans customer data and automates business processes under one central CRM platform. The result? An efficient, aligned and adaptable business that delivers a friction-free customer experience.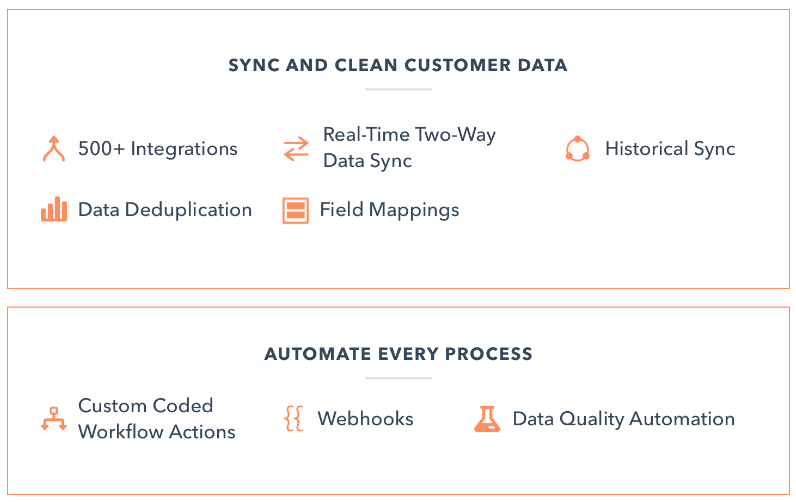 Conclusion
As businesses become more customer-centric and more inbound, the more an all-in-one CRM, marketing, sales, customer service and website platform like HubSpot becomes key for sustained growth.

Sure, you can hack a stack of tools together, Franken-style, but be mindful of the hidden cost: Time. Not to mention some of the issues around data, uncertainty, education and technical support.

If you're currently working in a multi-tool chaos world or have in past, you'll know the sweet feeling of working with an all-in-one platform that only requires one login, not 50.

Sure, there are some amazing niche/specialised tools out there, but HubSpot matches it with all of them and given its all-in-one setup, wins most business cases hands-down.
Posted on
20 May, 2021
by Nathan Reiche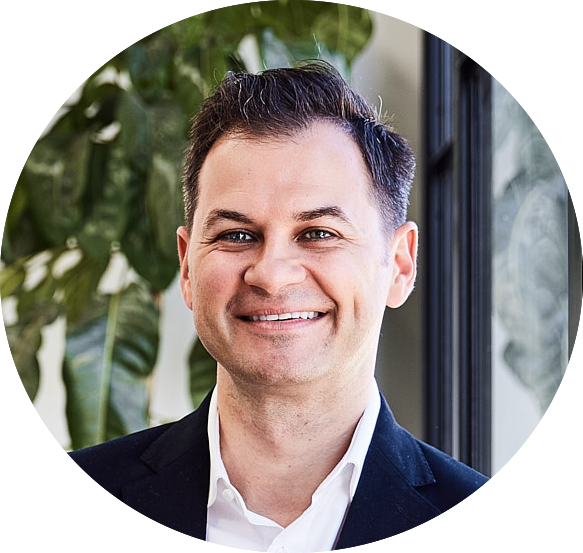 Nathan Reiche
Nathan is the CEO and Founder of Content Chemistry, a digital marketing agency and a HubSpot Platinum Solutions Partner based in Sydney. He has over 15 years' marketing experience in Australia and Europe, working both on the client-side and as an agency. He's passionate about content/inbound marketing, SEO and sales funnels. And yes he's been told that he looks like Roger Federer.