Marketing is hard. But it's especially hard when you've got no data to inform decisions, strategy and tactics. It's like going on a hike in the dark, at night and you're blindfolded. You might get to your destination, but safe to say, it certainly won't be a pleasant experience.

Say hello to Google Analytics (specifically Google Analytics 4 or GA4) and b-bye to Google Analytics 3 or Universal Analytics (UA).
Google Analytics is an integral part of any marketer's toolbox and this blog will explain some of the ways marketers can use it to get better ROI from their marketing.
What is Google Analytics 4?
Google Analytics 4 (GA4) is the newest version of Google Analytics. It's a web analytics tool from Google that lets you track and measure user traffic and behaviour on your website for free. It's used by an estimated 28.8 million websites, giving it an estimated 85.9% share of the web analytics market.

Since the launch of the original launch of Google Analytics in 2005, Google has rolled out 4 iterations of the most widely used analytics platforms on the web.

GA1: Urchin, 2005.
GA2: Classic, 2008.
GA3: Universal, 2013.
GA4: Released in 2020, replaced UA in 2023.

The key date for Google Analytics is 1 July 2023 when Google Analytics 3 (Universal Analytics) stops processing data. From 1 July 2023, only GA4 will be capturing data.

In most cases (hopefully), you or your *cough* awesome digital marketing agency, would've setup a GA4 property back in July 2022. If so, that means that in July 2023 you'll have 12 months of data and be able to compare July 2023 with July 2022 for important YoY insights.


How is GA4 different to GA3?
GA4 collects both website and app data to better understand the customer journey
GA4 uses event-based data instead of session-based
GA4 includes privacy controls such as cookieless measurement, and behavioural and conversion modelling (important for GDPR)
GA4 has predictive capabilities offer guidance without complex models
GA4 has direct integrations to media platforms help drive actions on your website or app
Why should you use Google Analytics 4?
1. You have no choice!

As above, Google is sunsetting GA3 in July 2023, so you'll need to use GA4 whether you like it or not.

2. Better data

With Google Analytics 3, page views were the most important metric. With Google Analytics 4, all measurements are events. Instead of seeing generalised data or having to hack Google Tag Manager, you can now gain a fuller understanding of how users interact with your app and website.

GA4 also has a bunch of new metrics, like:


engaged sessions
engagement rate
engagement time

It also tracks a number of other dimensions, including attribution, demographics, events, and so forth.

And the big change is that with GA4 you can now collect data across desktop and mobile apps.

3. Better privacy

With the introduction of GDPR laws in Europe and enhanced privacy online, it's becoming more difficult to track users with cookies. As a result, third-party cookies are being phased out. Firefox and Safari already block them by default. In 2023, Google plans to do the same.

With machine learning, GA4 makes the need for cookies obsolete. Google's AI-powered insights automatically alert you to product data trends. It also gives you access to predictive metrics to help identify users and actions that may lead to a purchase. These are:


Purchase probability: The probability of a user who was active in the last 28 days making a purchase in the next seven days.
Churn probability: The probability of a user who was active in the last seven days not being active in the next seven days
Revenue prediction: The predicted revenue from purchases in the next 28 days from users active in the previous 28 days.

Using this data, you can anticipate customer actions and tailor marketing campaigns to focus on high-value audiences.
3. New UI
The Home tab in GA4 is great in that it's a customisable dashboard of reports, stats, and other figures. You can adjust what you see in the Home tab so that you see a snapshot of the overall performance of your website.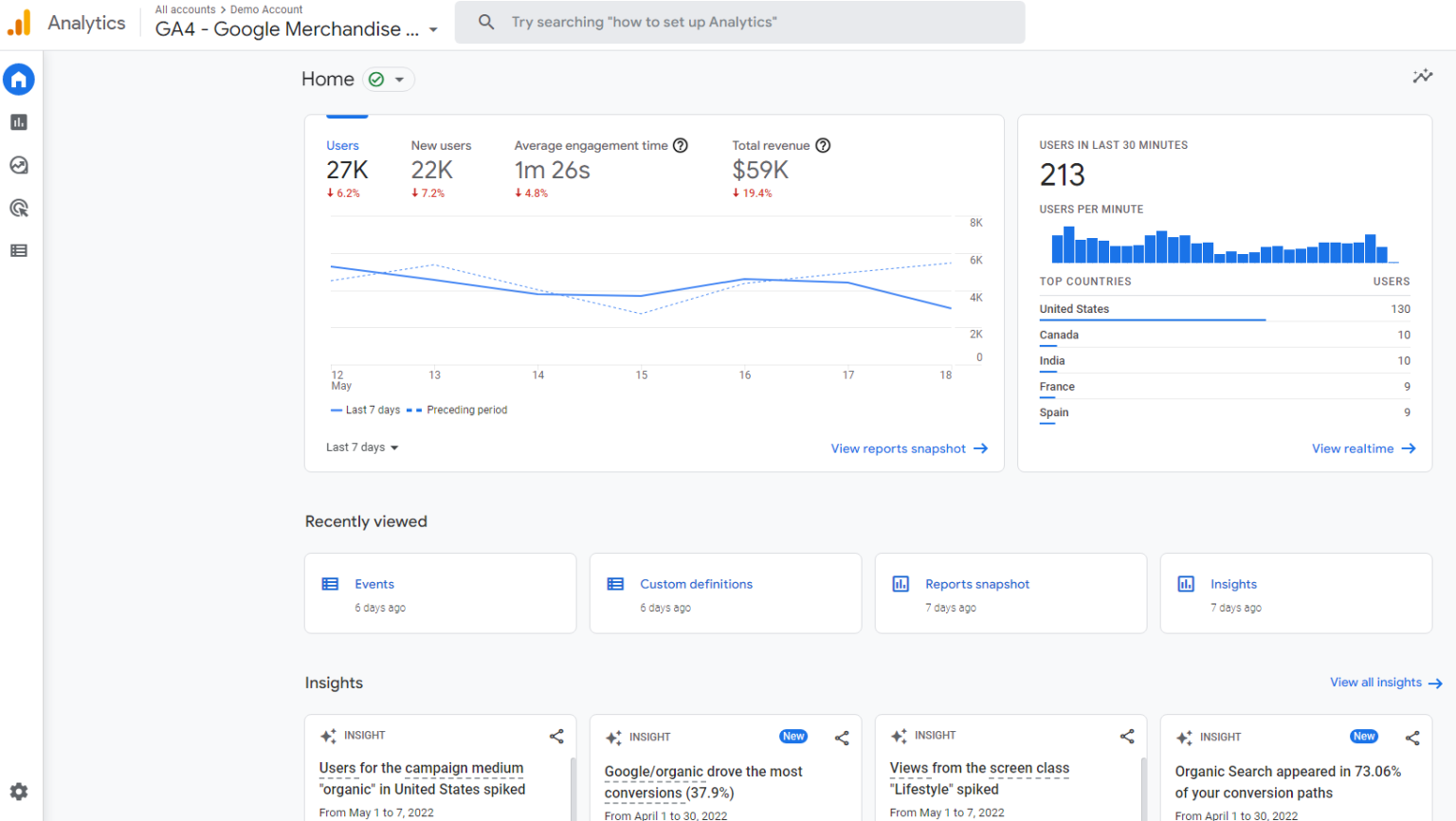 Visualisation is also improved and data tables have been updated. It's now easier to get a holistic view of real-time data at a glance

But don't me wrong. If you've been using GA3 for years, this is a major update to the look and feel and the was GA is used.
4. Build sales funnels
With GA4, all users now have access to funnels, which were previously reserved only for GA360 users. The new funnel features are far more customisable.

Here's a couple of other changes with GA4 to be mindful of as marketers, especially when it comes to metrics you report on:
Engagement rate will replace bounce rate. Instead of bounce rate, there will be a new metric for measuring visitor engagement called 'engagement rate.'
Session will be tracked differently. Unlike Universal Analytics, GA4 doesn't create a new session when the campaign source changes mid-session. As a result, your session counts in GA4 will be lower than your session counts in Universal Analytics.
Average session length. Since GA4 has a different data model, you'll see a discrepancy in average session length between GA4 and Universal Analytics. Instead of comparing apples and oranges, we advise you to stick to the result in GA4 and report based on that.
Average pages per session isn't available in GA4. But, if you'd like to know your average pages per session number, you can pull GA data into a spreadsheet and create a custom metric with views and sessions. Average pages per session are views divided by sessions.


How to setup / migrate to Google Analytics 4?
Login to your Google Analytics account
Click the gear icon (Admin) in the bottom left navigation
Under Property, check that the correct account is selected and click GA4 Setup Assistant
Click Get Started under I want to create a new Google Analytics 4 property
If your site uses gtag.js, you can decide whether you want the Google wizard to enable data collection using your existing tags. If you use a website builder or CMS (e.g. WordPress, Wix, Squarespace, Shopify, etc.), Google Tag Manager, or if your site is tagged with analytics.js, you'll see a message notifying you that you'll need to install new tags on your site. Google's guide to adding a GA4 property provides instructions on how to do this.
Click Create property. Using the details from your UA property, Google will connect your existing analytics with GA4 to set up your new property. It will also activate enhanced measurement so you can immediately start learning more about user behavior. All of this is done alongside your existing UA data, allowing you to keep tracking data in your existing setup.
From the GA4 Property Setup Assistant Page, click See your GA4 property to go to a new Setup Assistant for configuration.

Note: GA4's Setup Assistant will automatically create a data stream for your website during set-up. To add additional streams for iOS and Android apps and Web:

1. Go to Admin > Data Streams, then click Add Stream

2. Click iOS app, Android app, or Web



Conclusion

Change is hard and for most of us, getting our head around GA4 hasn't been easy. But when you look at the benefits of GA4 vs GA3, it's definitely worth the effort migrating across and setting up your data (and marketing) for success.
Posted on
14 June, 2023
by Nathan Reiche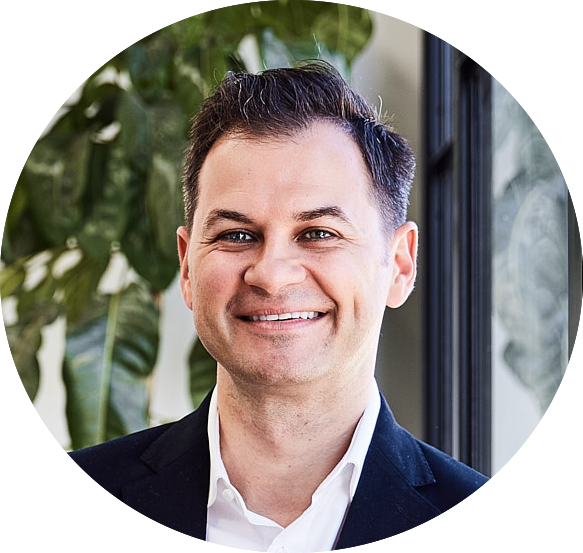 Nathan Reiche
Nathan is the CEO and Founder of Content Chemistry, a digital marketing agency and a HubSpot Platinum Solutions Partner based in Sydney. He has over 15 years' marketing experience in Australia and Europe, working both on the client-side and as an agency. He's passionate about content/inbound marketing, SEO and sales funnels. And yes he's been told that he looks like Roger Federer.