What happened at the Google Marketing Live 2023 event? Here's the TL;DR!
Google Marketing Live is an annual event where Google unveils its latest advertising products, strategies, and innovations to help marketers and businesses thrive in the digital landscape.
Google broke its presentation into three C's: customer connection, creative, and confidence, with examples of how its new tools and features (backed by AI) can help businesses in each of those critical junctures.
The 2023 event showcased several game-changing updates and insights. Here's a summary.
1. Privacy-centric approach
Acknowledging the growing importance of user privacy, Google highlighted its commitment to providing privacy-centric advertising solutions.
One of the significant announcements was the introduction of "Federated Learning of Cohorts" (FLoC) as an alternative to third-party cookies.
FLoC allows advertisers to target aggregated user groups rather than individual data, ensuring user privacy while still enabling effective ad targeting.
2. Enhanced AI-powered tools
Google showcased its advancements in artificial intelligence (AI) by unveiling several new AI-powered tools and features.
Google Ads AI was introduced as an innovative ad format that automatically optimises ad elements such as headlines, images, and descriptions to maximise performance and relevance.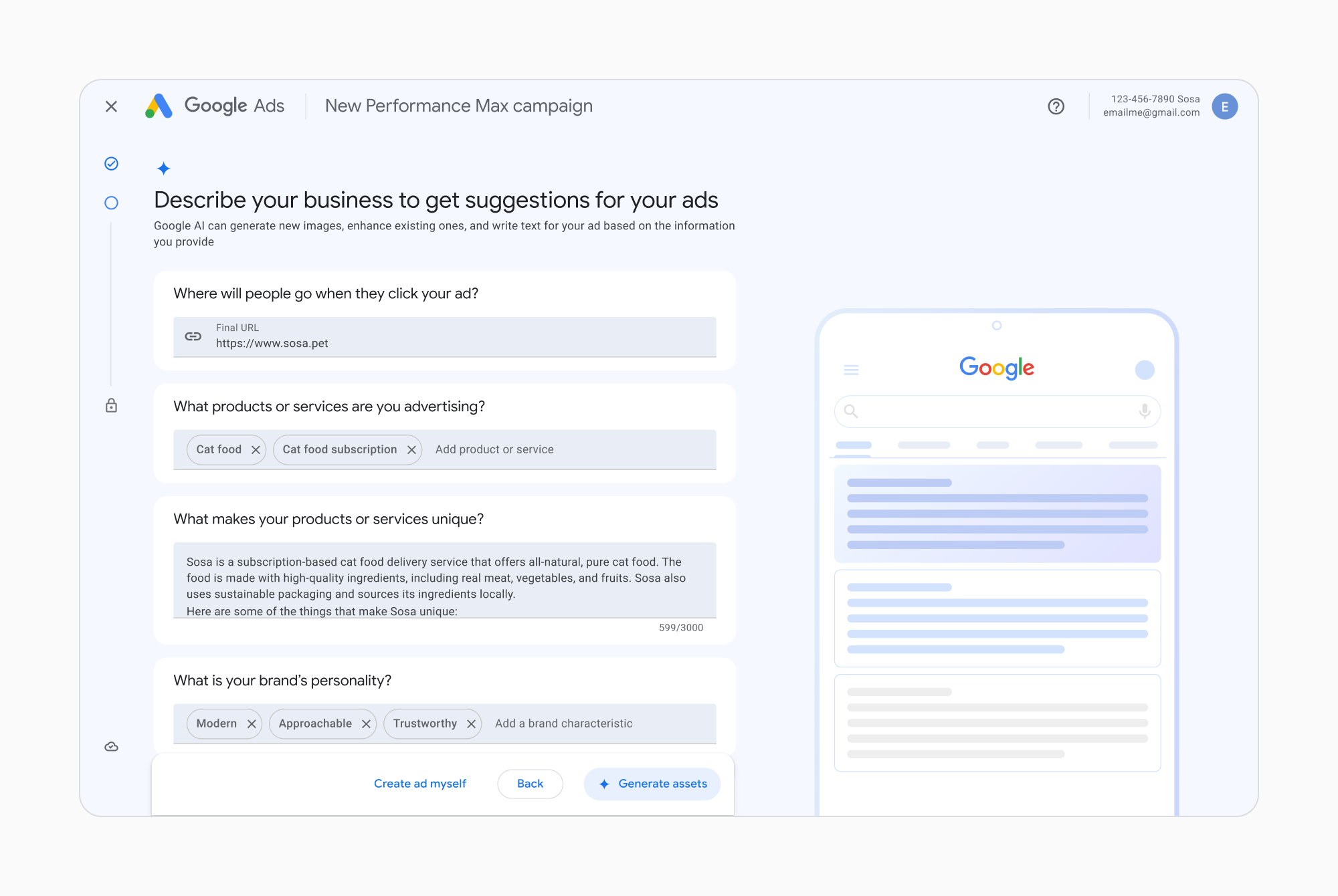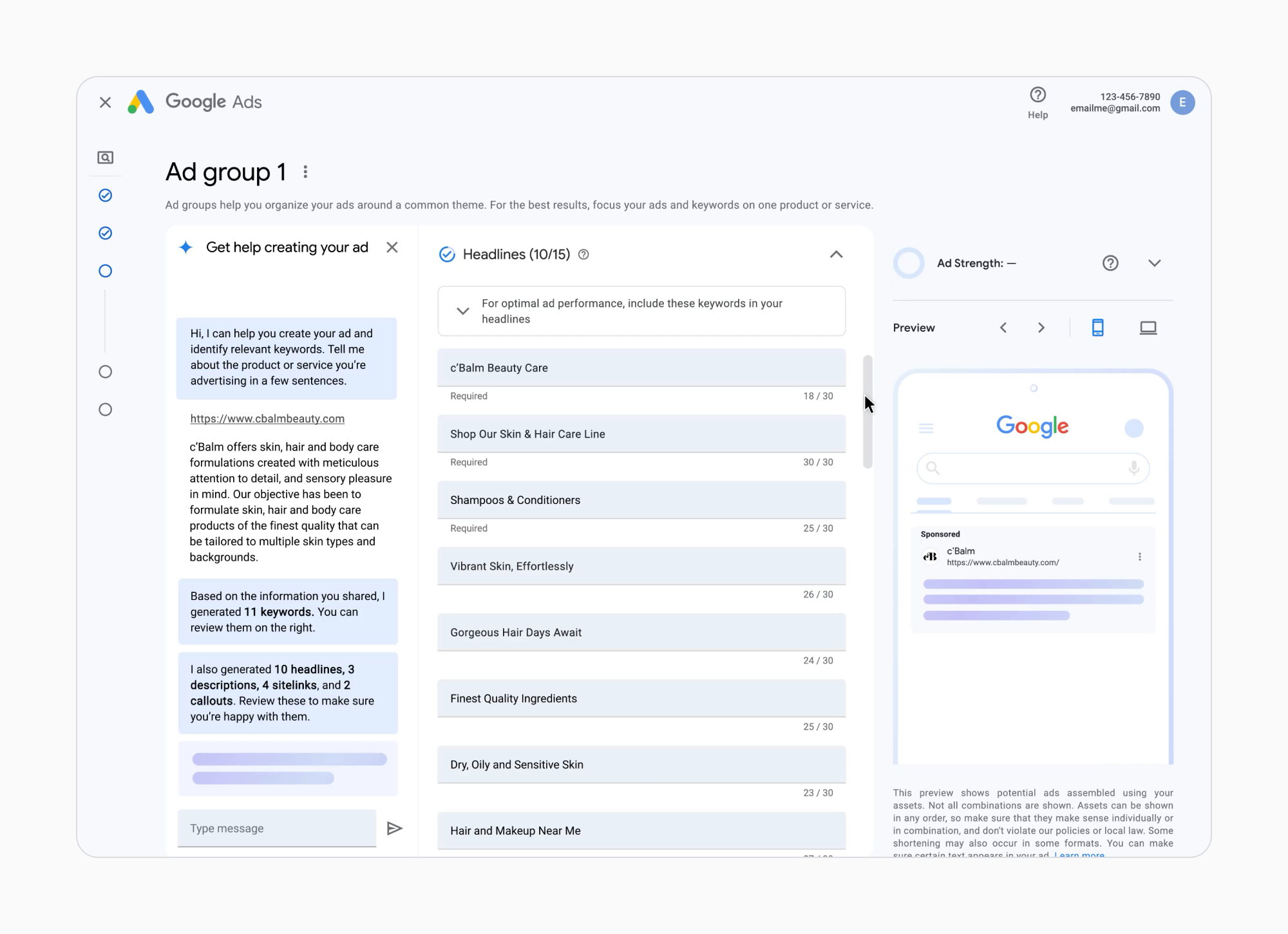 Additionally, the AI Product Studio was launched, empowering marketers to create personalised and dynamic ads at scale using AI-generated content.
Unique images, specially generated for you, are also suggested by Google AI, enabling your brand to captivate customers across a broader spectrum of inventory and formats.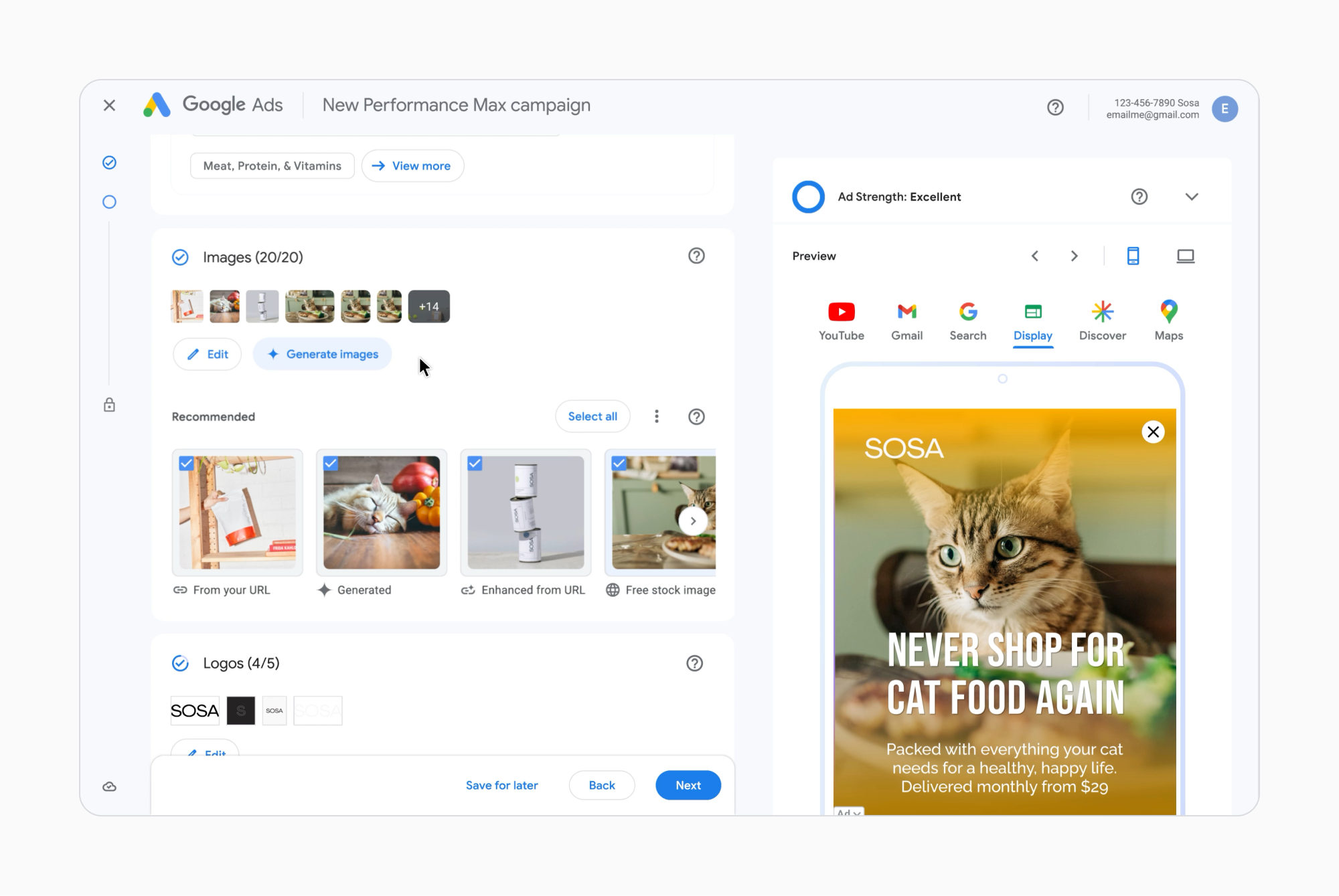 Working with Google Ads we're pretty excited about the next announcement 🎉 Creating campaigns will become easier and faster by simply inputting basic data like the website URL. Google will extract information from the website and quickly load product descriptions, logos, and other assets into Google Ads, allowing for seamless campaign creation.
Once the basic data and assets are created, Google Ads AI will identify gaps where improvements can be made. It may prompt users for more information, subsequently generating additional assets to enhance ad strength. Users will be able to request more varieties and further improve their campaigns, much like having a conversation with ChatGPT or any generative AI.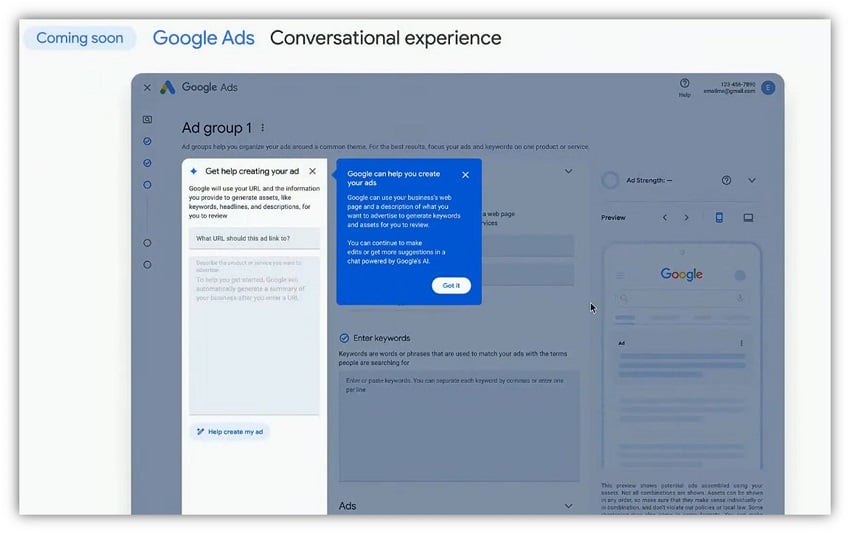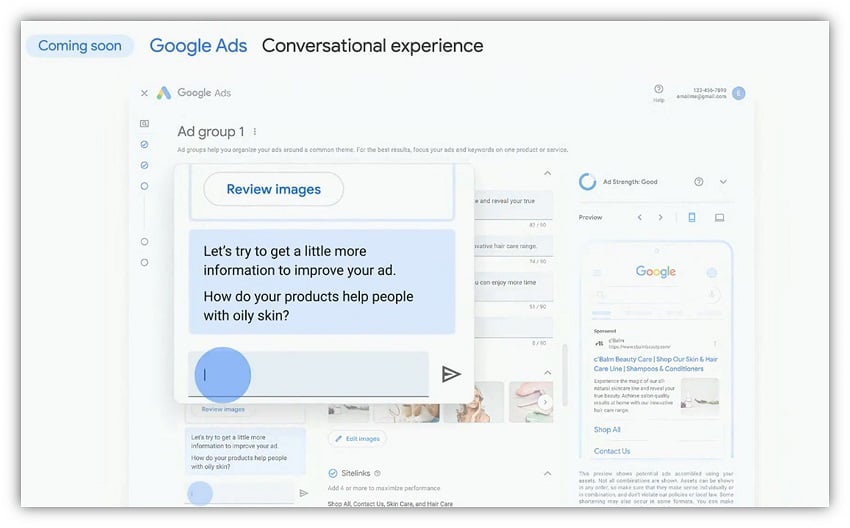 3. Customer-centric approach
The event emphasised the significance of customer-centric marketing strategies.
Google emphasised the importance of understanding customer journeys and unveiled new tools to help businesses deliver personalised experiences.
Customer Match Insights provides valuable audience insights, enabling marketers to understand their customers better and tailor their messaging accordingly.
"Customer-First Campaigns were also introduced, emphasising the importance of putting the customer at the forefront of marketing efforts.
4. YouTube advertising innovations
YouTube, a key platform within Google's ecosystem, received special attention during the event.
Google announced the expansion of YouTube's shoppable ads, allowing advertisers to showcase and sell products directly within video content.
Also, YouTube's Video Action Campaigns were introduced, enabling advertisers to drive specific user actions, such as sign-ups or purchases, through interactive elements within videos.
Video view campaigns are meant to maximise results on YouTube on a cost-per-view basis. Video view campaigns combine ad formats including in-stream skippable ads, in-feed ads, and YouTube Shorts.

This new campaign type is poised to help advertisers further connect with their audience since it'll be seamless to create one video ad that fits various placements across YouTube.
5. Local advertising solutions
Google demonstrated its focus on helping businesses connect with local customers through various advertising solutions.
Local Campaigns were introduced as an effective way to drive store visits and offline sales, combining location targeting, ad formats, and machine learning to deliver hyper-localised ads.
Google Maps was also highlighted as a powerful tool for local advertising, offering new features such as promoted pins and inventory search to drive foot traffic to businesses.
6. Measurement and attribution
Recognising the need for accurate measurement and attribution, Google announced updates to its measurement solutions.
The Google Measurement Partners program was expanded to include more third-party partners, ensuring comprehensive and reliable measurement across different channels and devices.
Additionally, Google introduced Cross-Device Reporting to provide a holistic view of user behavior and enable better understanding of the customer journey.
7. Sustainability and social responsibility
Google Marketing Live 2023 also highlighted Google's commitment to sustainability and social responsibility.
The event focused on the importance of inclusive marketing and diversity in advertising, encouraging brands to reflect a wide range of perspectives and inclusivity in their campaigns. Google also showcased its ongoing efforts to reduce its environmental footprint, including initiatives to make advertising more sustainable and promote eco-friendly practices.
8. Search Generative Experience (SGE) preview
During the recent Google I/O event, Google announced forthcoming generative AI capabilities for Search, intending to make the service more intelligent and user-friendly.
Demonstrations from the Google I/O event highlighted how advertisements could be situated above and below this new experience.
Search Generative Experience (SGE) is accessible through Search Labs, Google's hub for experimental Search functionalities.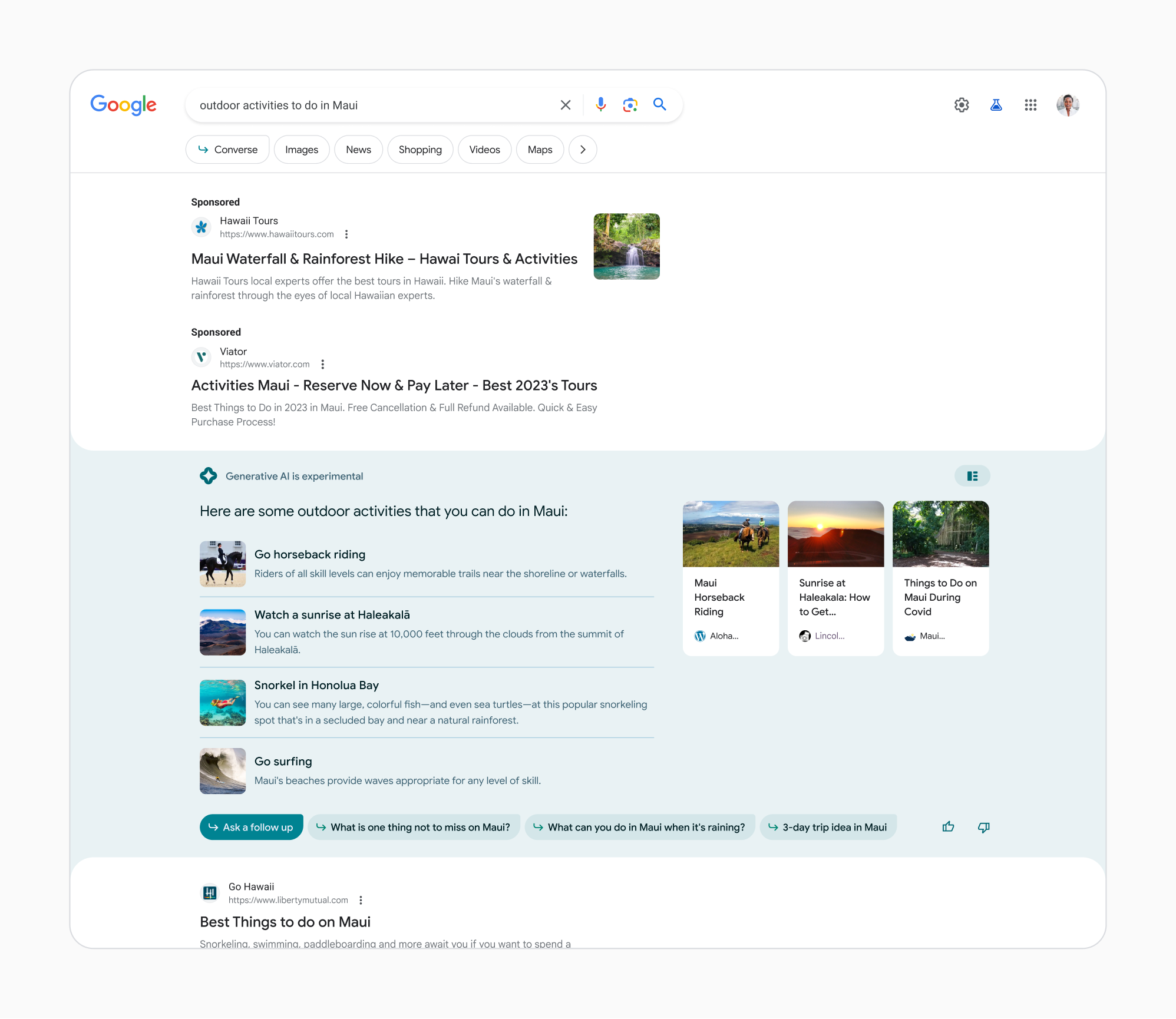 9. Google Analytics 4 + Google Ads
Google Analytics 4 (GA4) audience builder will allow advertisers to build new audiences from Google Analytics right in their Google Ads account.
This will include predictive audiences, which Google says uses AI to help you reach people who are more likely to purchase.
The GA4 audience builder also seamlessly connects your audiences to your Google Ads account. This could open up more audience target options across Google Ad campaigns for advertisers.
Conclusion
Google Marketing Live 2023 unveiled a host of groundbreaking updates and strategies that are set to shape the future of digital marketing. From privacy-centric solutions and AI-powered tools to customer-centric approaches and local advertising innovations, Google's latest offerings aim to empower marketers to reach their target audiences more effectively while respecting user privacy.


Posted on
14 June, 2023
by Veronika Pap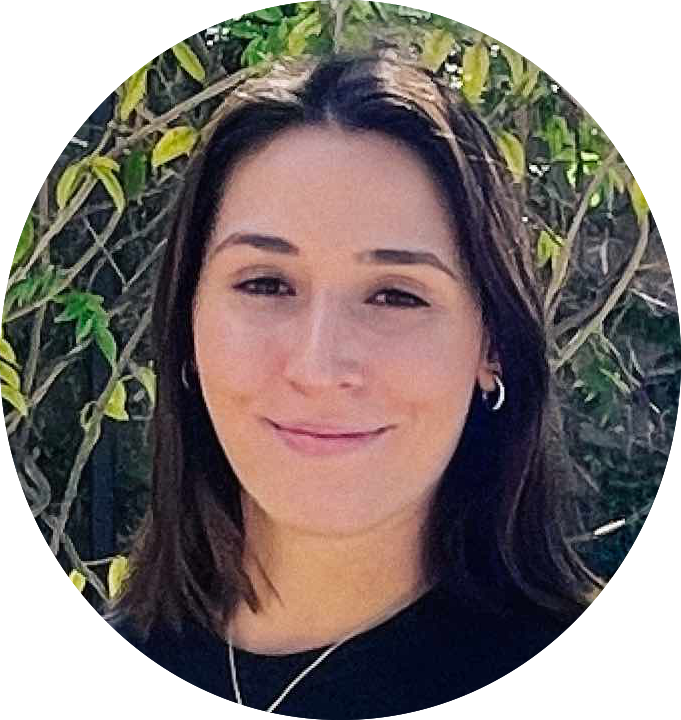 Veronika Pap
Veronika has lived and worked across four countries in the last 15 years and has extensive experience working as an account manager, photography and video producer and art director within the creative industries. Marketing has always been a sidekick that followed her career journey closely. After so long, she decided to merge her experience into marketing and focus on providing her clients with a marketing strategy backed by the knowledge brought by the creative twist.