In case you missed Google's latest announcements, we've summed up 5 key things from the Google I/O 2023 summit.
1. Search Generative Experience (SGE)
Google announced some major AI upgrades to its Search engine — Search Generative Experience (SGE) — where you can soon get a simplified and tailored response to your questions directly in Google Search.
It's basically ChatGPT, but in Google Search, where users will be able to have a conversation if they want to know more on a topic.
This upgrade is designed to enhance the user experience overall but even more so in some areas.
For example, search under shopping will be different. When users search for a product, the answer will include a detailed but simple description including reviews, ratings, prices, and product images all in one.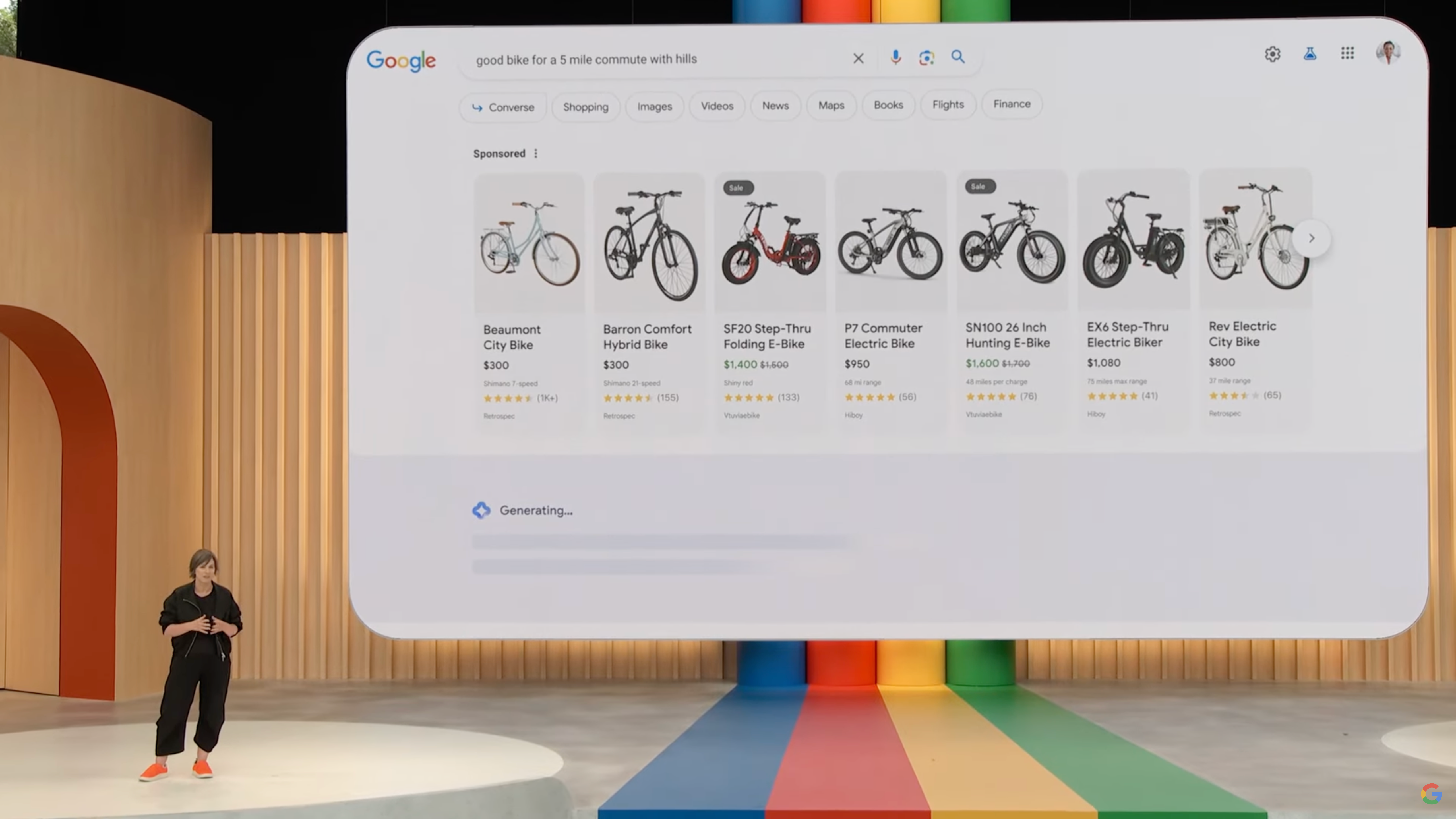 But what does this change mean for SEO and Google Ads?
It's hard to say until it's fully rolled out worldwide; however, it has been confirmed that Google Ads will still be listed as sponsored ads.
Google will announce more about AI and Google Ads at their online marketing event, Google Marketing Live, on the 23 of May 2023.
What's the impact for SEO and those Google page 1 keyword rankings? Similar to what Google has done in the past with featured snippets and other updates, the 'traditional' search results will get pushed down (further), depending on the lengths of the conversation a user may have with the AI.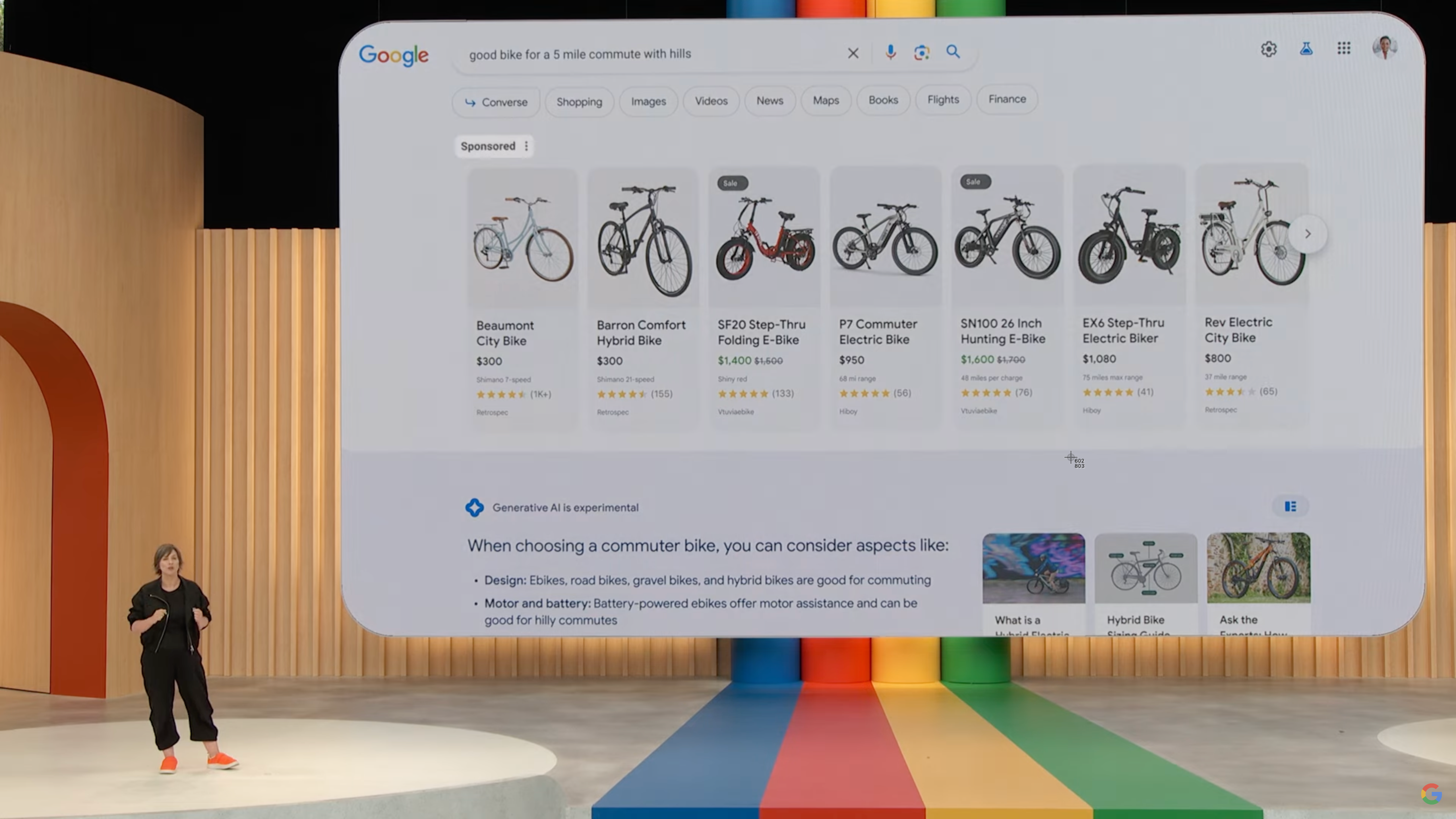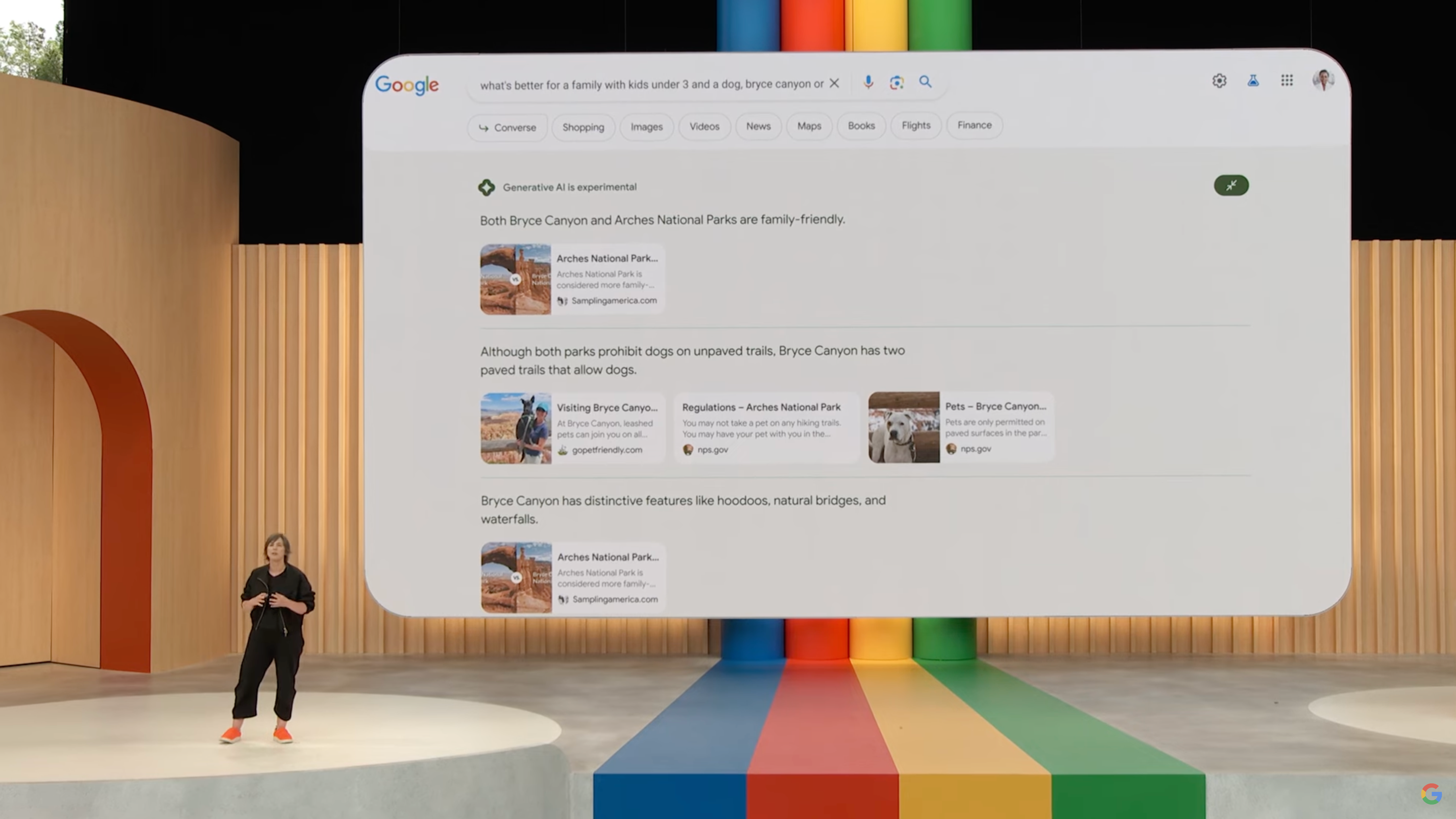 You can read a lot of "SEO is dead" comments online since the announcement, but if that were the case, then SEO died so many times prior to these changes and we're still here... SEO is not dead! 100% it's evolving and perhaps more than ever now with AI but search will always be here — it'll just be different.

Testing SGE is available for users in the U.S.; you can join the waitlist in Google Labs here.

If you're not in the U.S., you can watch a recap of how it'll look and work below.

2. Gmail AI suggestions and Duet AI for Google Workspace
*Soon* enhanced content suggestions will appear in Gmail users' accounts to help productivity.
This will be rolled out to the full Google Workspace, including Gmail, Docs, Sheets, Slides, and Meet.
You can read more about the Duet AI for Google Workspace features here.
3. Gmail user verification
The blue tick era has arrived, and if you're into it, then you can get your hands on a Gmail tick as well (following Twitter).
Jokes aside, the verification tick was set up for Gmail accounts to protect millions of Gmail users from potential cyber scams. In the long run and in today's world where our inbox is full of spam, this may change how we view our emails in the future, focusing only on reading emails from verified accounts and skimming through the rest. We shall see.
4. Bard
Bard — Google's version of Chat GPT is to be rolled out to be available to everyone.
It currently responds much slower in comparison to Chat GPT's free version, which I'm sure will improve over time.
As at May 2023, one of the main differences (aside from the different coding languages) between ChatGPT and Bard is that Bard can draw its responses from the internet in real-time, whereas Chat GPT only has knowledge till late 2021.
Chat GPT can respond to a wider range of prompts and correctly and Bard takes a couple of tries and is also slower in producing responses.
5. About this image
"About this image" will be a new feature on Google Search (image) where you can fact-check the reliability of the source.
For example, find out if it was AI-generated. This will be the first step in the AI releases to help identify misleading images and it will be able to tell you when the image and similar images were first indexed by Google, where it may have first appeared and where else it's been seen online. Find out more here.

Still want more info on the I/O? Check out the 10 minute video recap video below.
Still want more? Check out the full list of 100 things that were announced here.



Posted on
17 May, 2023
by Veronika Pap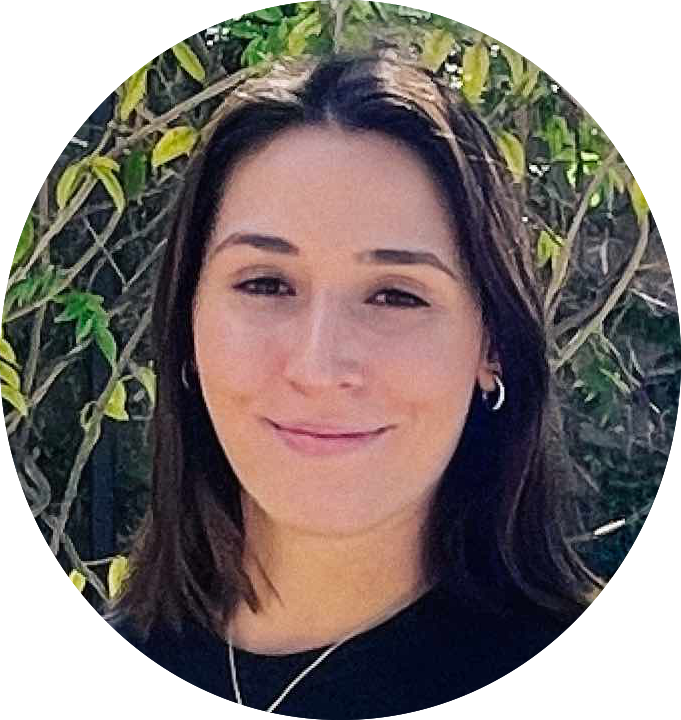 Veronika Pap
Veronika has lived and worked across four countries in the last 15 years and has extensive experience working as an account manager, photography and video producer and art director within the creative industries. Marketing has always been a sidekick that followed her career journey closely. After so long, she decided to merge her experience into marketing and focus on providing her clients with a marketing strategy backed by the knowledge brought by the creative twist.